9 Amazing Things to do in Ella, Sri Lanka
Ella Sri Lanka, nestled 1,041m up into the lush green jagged hills and tea plantations of central Sri Lanka, is a hiker's paradise. A major hub for hip, young European backpackers, this once quaint sleepy town has grown in popularity around the world.
Some of the top things to do in Ella are the Insta-famous 9 Arches Bridge Ella, the panoramic views from Little Adam's Peak, the scenic Kandy to Ella train ride and the gushing Ravana Falls. This will likely to one of the top destinations on your Sri Lanka itinerary. Ella things to do are endless.
Want to know what to do in Ella? I've got you covered with all the best places to visit in Ella in my essential guide.
To cover all the best things to do in Ella Sri Lanka, spend at least 2 full days here.
READ MORE | Need inspiration? Check out my ultimate Sri Lanka Bucket List
*This post may contain affiliate links, which means I may receive a commission, at no extra cost to you, if you make a purchase through a link. Please see my full disclosure for further information.
Ella Sri Lanka Quick Guide
Where is Ella Sri Lanka?
Set 1,041m up amongst the lush hills and tea plantations of central Sri Lanka, Ella is located 5 hours due east from the capital city of Colombo.
Ella, with a population of around 45,000 people, sitting on the edge of the Uva Province has seen a drastic rise in tourism. The main strip in town is now dotted with hotels and western cafes, but walk 10 minutes outside the centre and it still maintains that quaint local village feel with plenty of Ella attractions.
Best Time to Visit Ella Sri Lanka
The best time to visit Ella Sri Lanka is during the driest months of January to March. The monsoon hits this part of Sri Lanka, in the centre of the country, between July to November. December, April and May will provide pleasant weather with a chance of sporadic rainfall.
As opposed to the coastal regions of Sri Lanka, Ella faces larger fluctuations in temperature with the drier season experiencing temperatures between a high of 28 degrees Celsius and a low of 17 degrees celsius. The wetter season experiences temperatures from a high of 25 and a low of 14.
Ella places to visit still remain open and pleasant to see during this time, you just need to be prepared.
TIP | Bring a warm layer, rain jacket and good shoes as temperatures dip in Ella when the sun isn't shining.
How to Get Around Ella
Walking
Due to the size of Ella, it maintains high walkability. Most of the main trails and attractions in Ella can be reached by walking down the train tracks or main streets. You can reach anything in Ella by walking a distance of 15 minutes in any direction, but remember this is hill country, the roads can be steep and windy.
Tuk-tuk
If you decide to enjoy the outlying places to visit in Ella Sri Lanka, such as Ravana Falls, hailing a tuk-tuk is your best bet. Costing approximately 200-400 LKR each way, a tuk-tuk ride is super fun and can provide you a chance to chat with a local.
Haggling is a must! And make sure to finalize the price before getting into the tuk-tuk.
Train
The Kandy to Ella scenic train ride in Sri Lanka is an absolute must on your trip, and in my opinion, is one of the most magical train rides in the world. This train ride also extends from Ella to Badulla if you want to see more of this beautiful hill region.
Where to Stay in Ella, Sri Lanka
The touristy culture of Ella lends to a full range of accommodation budgets, from backpacker paradise Ella to luxury eco-accommodation in Ella.
I've recommended three hotels in Ella below, but you can also search for all hotel options for Ella, Sri Lanka using Booking.com.
98 ACRES RESORT + SPA | LUXURY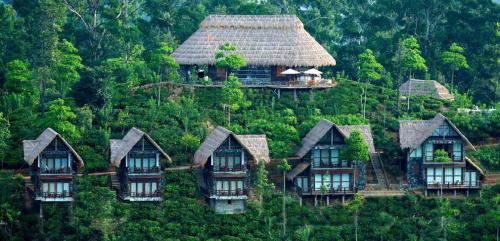 98 Acres Resort and Spa Ella are set atop the hill adjacent to Little Adam's Peak. This 4 star hotel in Ella features individual luxury villas with gorgeous views, a bean-shaped pool, a serene spa and a restaurant that offers delicious local and western food. This is one of the top places to stay Ella in my opinion.
COUNTRY HOMES | BUDGET
Located a 5-minute walk downhill from Ella's main centre, this bungalow in Ella boasts individual rooms all with private balconies overlooking the mountains. An onsite restaurant is available and the staff's hospitality comes highly rated.
Things to Do in Ella Sri Lanka
#1 Venture up Little Adam's Peak, Sri Lanka
Little Adam's Peak (the younger brother to infamous Adam's Peak) is located right outside of the quaint hill town of Ella. It is easily accessible and is one of the best Ella Sri Lanka things to do.
Rewarded with panoramic views of the mountains and valleys that make up this lush Sri Lankan hill region, the summit can be reached in less than an hour. Of course, this depends on your fitness level. The stairs are steep on your final ascend, but worthwhile. Support the locals by purchasing a fresh coconut along the path, at only 50 LKR they are a steal!
I stopped off at the famous Nine Arches Bridge viewpoint located in the tea fields before starting out on Little Adam's Peak Sri Lanka.
WHERE | How to get to Little Adams Peak Sri Lanka | Walk 15 minutes up Passara Road from the main town centre. Once you hit the S curve at Ella Flower Garden Resort, turn right up the dirt path. This path will meander along a hill edge with lush views of the valley. About 15 minutes up the path you will come to the base of Little Adam's Peak.
COST | Free
TIP | The Little Adam's Peak base is equipped with a full zip-line experience, but will cost you 2500 LKR (~$13.50 USD) for a 30 second ride.  
#2 Visit The Insta-Famous Demodara 9 Arch Bridge Ella
The Nine Arches Bridge has become quite popular in the last decade for its stunning architecture and poise and is one of the best things to do in Ella].
Originally built in 1921 by the British, the bridge features nine impressive arches emerging from the lush green landscape. The masterpiece carries the scenic train journey from Kandy to Ella to Demodara. There are a few different ways to view this Sri Lanka bridge:
Cross the Bridge Ella
Take the train from Ella station to Demodara, a short 3km journey, here you can get the popular shots of people hanging out of the train passing over the bridge Ella. Beware though, hanging out of the train is strictly prohibited onboard, so do this at your own risk. This trip will only cost you 40 LKR (~$0.20 USD).
Viewpoint above the 9 Arches Bridge Ella
Walk down the train tracks from Ella town centre and head towards the side of the bridge without the tunnel. Look for a dirt path to the right and head up. You'll pass a small blue-roofed building and then a large opening. Here you can enjoy a cold drink and view of the bridge!
Viewpoint from below the 9 Arch Bridge Ella
Plastered all over Instagram, this shot of the Nine Arch Bridge has made its appearance on my feed countless times. Follow Passara Road until you hit Cafe Umbrella on the right. Across the road on the left, you will find a path just before the bus parking. See this map for the exact location.
The path will lead you through the jungle for approximately 10-15 minutes to arrive at the bridge. Please watch your footing, because the path to get down to the tea field below the bridge is steep and slippery. This is the path I'd recommend taking as the view is stunning and the path to get there is steeped in nature.
WHERE | Nine Arches Bridge, Ella
COST | Free, but donations are always welcome
#3 Stand at the top of Ella Rock
Another great one with panoramic views at its top is the Ella Rock hike. Some will compare this with Little Adam's Peak and have the latter win out. You can choose to do both or just head for the one that appeals most to you.
At Ella Rock you will find a quieter, untouched trail and more natural incline. Bring some snacks with you and spend some time perched atop Ella Rock to admire the view. The trip from Ella town to Ella Rock and back will take you approximately 3 hours.
BOOK A TOUR | 2 Day Tour of 3 Iconic Ella Sites
I skipped this one in favour of Little Adam's Peak and lunch at 98 Acres Resort & Spa.
WHERE | How to get to Ella Rock 
COST | Free
First time to Sri Lanka? Check out these helpful Sri Lanka travel tips
#4 Eat Lunch at 98 Acres Ella
After climbing Little Adam's Peak in the morning, head to 98 Acres Resort & Spa Ella for lunch. A beautiful eco-resort sitting atop an adjacent hill to Adam's Peak, it features individual villas, a large pool and a spa. Sit yourself out on the open deck overlooking the sweeping valley. Then enjoy a pricey, yet delicious cocktail before digging into a leisurely lunch. The Sri Lankan curry plate here is to die for!
WHERE | 98 Acres Hotel, Ella | How to get to 98 Acres Resort Ella | At Little Adam's Peak base you will find a path marked with Resort signage. Follow the trail for about 7 minutes and you will reach the resort.
COST | $10 USD Cocktails and meals starting at $12 USD
BOOK A STAY | 98 Acres Resort & Spa, Ella
#5 Marvel at the Gushing Ravana Falls
A 10 minute drive south of Ella is the beautiful Ravana Falls. Easily accessible from the main road, this three tiered stunner has a pretty cool history. Local legend dictates that King Ravana kidnapped princess Sita and hid her away in the caves behind the waterfall. He did this to avenge his sister for getting her nose sliced off by Rama (Sita's husband).
Whether you believe it or not, this waterfall is definitely worth a visit. If you have time, I'd suggest trekking up to the second and third tiers of the waterfall for a magical view of the surrounding hills and valleys.
WHERE | Ravana Falls, Ella | You can make your way up by following the well established trail on the right hand side of the Falls.
COST | Free entry, but 200-400 LKR for a tuk tuk ride to and from Ella centre
TIP | Go at sunrise or sunset for great views and to avoid the busyness of the midday tourists. If you go at sunset, do make sure to leave time to get down the trail again before the light disappears.
TIP | Partake in some of the local stalls along the road, selling such things as coconuts, corn on the cob and even quartz crystals.
#6 Visit the Tea Plantations
Ella is situated in the hill region of Sri Lanka and a prominent feature here are the expansive tea plantations. Lipton Tea was created here! And tea is one of the main exports of the country, so you know it will be delicious.
Termed Ceylon tea, there are many who grow it around the Ella area. Take a half-day trip out to the Ceylon tea factory Ella and take a proper tour to find out how the tea is selected, harvested and made.
My recommendation is to visit the Dambatenne Tea Factory, created by Lipton himself in 1890. Dambatenne is only a one-hour scenic train ride or tuk-tuk from Ella town centre. There is no production on Sundays and Mondays so make sure to plan accordingly. Ella visiting places like this, are worth spending an extra day in this area.
COST | On site tours of Dambatenne Tea Factory cost 250LKR
TAKE A TOUR | From Ella: Lipton Seat + Dambatenne Tea Factory Day Tour
TIP | Make sure to stop off at Lipton's Seat for panoramic views of the surrounding hills
#7 Enjoy Dinner at Cafe Chill Ella
When the sun goes down after a long day of outdoor activities and there is nothing else to do, you may find yourself at Cafe Chill for dinner.
This Ella hotspot is lively, loud and highly westernized, but can still serve up some decent food and is a great place to visit in Ella. Full of young groups of European backpackers, it is definitely built for tourists. Do try their made-in-house juices, you won't be disappointed!
WHERE | Chill Cafe, Ella
COST | Meals at Chill Ella cost anywhere from 400 LKR to 1200 LKR ($2.50 – $6.50 USD)
TIP | After dinner, stroll along the busy main road to do a bit of souvenir shopping. I particularly enjoyed Stolen Paradise for trendy hot weather clothing. A perfect spot to pick up anything you forgot to pack before heading down to Weligama or Mirissa along the south coast of Sri Lanka.
Looking for more culture? Check out the best things to do in Kandy, Sri Lanka
#8 Day Trip to Horton Plains National Park
Horton Plains National Park is one of the coolest things to do in the hill region of Sri Lanka. It's about a 2 hour drive from Ella, but it is made worth it by the views from World's End. Horton Plains is best seen first thing in the morning. The dew on the ground is atmospheric and the possibility of seeing a deer is higher.
Don't forget to stop off at the Baker's Falls before trekking on to the final viewpoint. Here you will see sweeping views of the lush peaks, and on a good day you could even see all the way out to the ocean. The leisurely trek will take you about 3 hours to complete.
WHERE | Horton Plains National Park, Sri Lanka
COST | Entrance fee for Horton Plains National Park is $20USD plus cost of transportation to get there
TAKE A TOUR | Horton Plains National Park Tour + Scenic Train Ride
TIP | Remove any plastic bags or bottles from your daypack before hitting the trail or else the staff at the entrance will do this for you
TIP | Get to the park for opening at 6AM to beat the crowds
#9 Climb the Challenging Adam's Peak
The more adventurous of the two Adam's Peaks. This trek will take you up 6,000 crumbling steps and vertical inclines. Not deemed a technical trek, Adam's Peak can still take anywhere from 3-6 hours to complete depending on your fitness level.
The hike is also located halfway between Kandy and Ella, so you'll either need to stop on your way to Ella or backtrack by train for 4.5 hours to make the trek. If you aren't a big hiker, I'd skip it and instead focus your energy on Little Adam's Peak or Ella Rock.
WHERE | How to get to Adam's Peak from Ella, Sri Lanka | Make your way to Hatton train station from Ella train station. From there you can board a local bus or find a tuk-tuk to take you the rest of your journey.

COST | Free
TAKE A TOUR | 2 Day Tour of 3 Iconic Ella Sites
Spotting elephants on your bucket list? Read about visiting Yala National Park
Best Places to Eat in Ella Sri Lanka
MATEY HUT | Serving up some delicious Sri Lankan cuisine, this hole in the wall offers authentic rice and curry plates, kottu roti, and fresh fruit juices. About 500 LKR for rice and curry or kottu roti. See location here.
CAFE CHILL | The main hipster haunt in Ella centre, this spot is packed most of the time. Yes, western delights such as pizza and burgers are served here, but make sure to try the house-made health juices. Go early for dinner, otherwise you may be waiting a while. See location here.
AK RISTORO | Featuring a pasta bar, this higher end restaurant offers food items from all over the world. You can find sushi, chicken wings and tapas. I'd recommend going for dinner as they have a separate limited lunch menu. See location here.
IN REINCARNATION | A newer kid on the block, this Mexican spot across the road from Cafe Chill and located in the Rainbow Inn offers up the best burritos and Mexican bowls in Ella. See location here.
More Essential Guides for Sri Lanka
Want to continue planning your trip to Sri Lanka?
Check out my 3 WEEK SRI LANKA ITINERARY or if you prefer to determine the route yourself, read the specialized guides below for some of the best experiences in Sri Lanka:
SRI LANKA BUCKET LIST | Get inspired by all that Sri Lanka has to offer. Here are my Sri Lanka highlights.
SRI LANKA TRAVEL TIPS | Prepare for your Sri Lanka trip by reading my 21 top tips on what you should know before visiting the beautiful teardrop isle
KANDY | Bustling market streets, quiet strolls around the lake, lush botanical gardens, and ornate Buddhist temples, the cultural capital of Sri Lanka has it all
YALA NATIONAL PARK | Majestic elephants, elusive leopards, and a myriad of bird species can all be found in one of the biggest national parks in Sri Lanka.
WELIGAMA | Where surf culture is alive and thriving, this central town is located on the golden south coast of Sri Lanka and offers the best surf beach for beginners, and an abundance of traditional and modern eateries.
MIRISSA | A small surf town located 15 minutes away from Weligama, offers golden beaches, surfing, serene spas, and healthy food.
GALLE FORT | Fortified stone walls, dutch and Portuguese style architecture, great food and shopping all culminate in this little town that was once a major Sri Lankan trading post.
SRI LANKA PACKING LIST | Take the guesswork out of packing and easily check off my list to all things you will need for Sri Lanka's warm climate
Click Image Below to Pin for Later!