Awesome Things to Do in Weligama: A Complete Visitor's Guide
Looking for the best things to do in Weligama?
A central location for surfers, hip 20-40 year olds, and new-age health foodies, Weligama is one the coolest spots on the southern waters and should definitely be a destination along your Sri Lanka itinerary.
A bit more bustling than most seaside villages, Weligama's vibe is a cross between hippie backpacker and trendy hipster. This town features a condensed town centre chock full of great sips and eats and many great places to visit in Weligama, including cape Weligama and Weligama beach.
Deemed the surfer capital of Sri Lanka, Weligama is closely connected to the smaller surf havens of Midigama and Ahangama. These towns, with their laid-back atmosphere, are more spread out but still offer a number of quality accommodations and yummy restaurants.
Any of these three destinations are great to set up camp for your duration in the area and to experience all of the best Weligama things to do.
To cover all the best things to do in Weligama, ensure you spend at least 2 – 4 days here.
READ MORE | 21 Essential Sri Lanka Travel Tips
*This post may contain affiliate links, which means I may receive a commission, at no extra cost to you, if you make a purchase through a link. Please see my full disclosure for further information.
Where is Weligama?
Set in the picturesque Weligama bay aside cape Weligama on the central south coast of Sri Lanka in the province of Matara, Weligama is located about four hours southeast of the capital of Colombo.
Weligama, with a population of around 75,000 people, is the surf capital of Sri Lanka and combined with its outlying communities of Midigama and Ahangama and is home to some of the best surf beaches in the world, including Weligama beach.
Best Time to Visit Weligama Sri Lanka
Sri Lanka has two distinct monsoon seasons, each striking the northeast and southwest coasts at opposite times of the year. The best time to visit Weligama is during the driest months of December to March. Be aware that December is the busiest month as international and domestic tourists flock to the south coast on various holidays.
Weather in the south of Sri Lanka fluctuates only a couple of degrees (roughly between 29 and 31 celsius), so the shoulder months of April and November will still see some sun and are pleasant in regards to temperature (albeit will be slightly rainier). These months offer the perk of lower Weligama accommodation prices.
September and October are the wettest months in this area.
Looking to spot a leopard? Then Visiting Yala National Park is for you
How to Get Around Weligama
Walking

Weligama Sri Lanka is an extremely walkable town as the main centre is bustling with activity throughout the day. Most of the main attractions in Weligama can be reached by walking, and strolling along the beach is one of the best things to do in Weligama. You can walk from the very west point of Weligama to the east in approximately 30 minutes.
Tuk-tuk
If you decide to enjoy a Mirissa to Weligama trip (and I highly suggest you do), hailing a tuk-tuk is your best bet. Costing approximately 500 LKR each way, a tuk-tuk ride is super fun and can provide you with a chance to chat with a local.
TIP | Haggling is a must! And make sure to finalize the price before getting into the tuk-tuk.
Local Bus
Sri Lanka's local bus system is one of the most economical ways to get around the island. On the south coast, the buses are great for day trips to places like Unawatuna or Galle Fort. Costing a mere $0.50 USD, the #2 and #32 buses run every 15 minutes and will take you down the main coastal road which gives a great view of the Indian Ocean.
TIP | Make sure you have small denominations of Sri Lankan rupees available as the bus driver will not give you change until the end of your bus ride.
Check out things to do in Mirissa, a nearby beach town
Where to Stay in Weligama
The surf culture of Weligama lends to more low-mid range accommodation although there are a few high-end hotels and resorts available if that tickles your fancy.
I've recommended three hotels in Weligama below, but you can also search for all Weligama hotel options using Booking.com.
CEYLON SLIDERS | MID-RANGE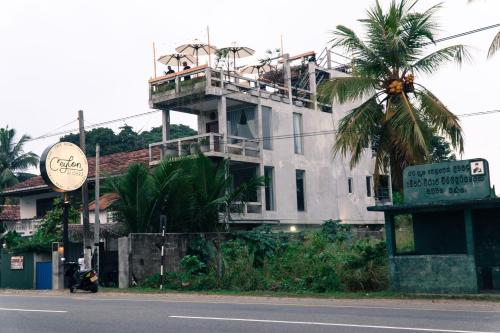 The coolest rooms in Weligama, Ceylon Sliders offers minimalist boho decor, a restaurant and a shop for your pleasure. Located on the West end of Weligama Beach, it's a prime location to hit the waves or watch a sunset. This was also one of my favourite places to eat in Weligama.
DREAMSEA SURF CAMP | MID-RANGE
Providing both private and shared rooms, Dreamsea is located right on the ocean in the surfing mecca of Ahangama. Cute white umbrellas top an open communal area overlooking the beach with a pool. Restaurant, surf lessons and yoga sessions can all be found on site.
HANGTIME HOSTEL | BUDGET
Located smack dab in the middle of the town centre right at the beach, this funky Weligama hostel offers onsite yoga, a rooftop restaurant and a great surfing community.
The Best Things to do in Weligama, Sri Lanka (+ Ahangama)
#1 Surf Lesson on Weligama Beach
Looking for what to do in Weligama? Well, take a stroll down Weligama Beach and there's no doubt that this is the hub of surf culture in Sri Lanka. Dotted with a large collection of surf schools, you can have your pick of the litter when it comes to instructors.
The beginner size waves and predictable surf is the reason why so many gather here, and the economic prices reflect this. Even if you aren't big into water sports, booking a surf lesson is one of the best things to do in Weligama and I highly encourage you to try it at least once.
If you are looking for a pro-level surf instructor with the patience of a saint, Getyourguide.com has you covered. They employ local surf professionals to give you in-depth teaching on how to get up on the board and take your first wave.
WHERE | Weligama Beach
BOOK | Weligama: 1-Hour Intermediate Surf Lesson
#2 Stay, Chill and Eat at The Kip in Ahangama
My favourite accommodation in Sri Lanka, The Kip, is situated a short distance inland from the Ahangama beaches. Nestled in a jungle oasis, you can find whitewashed stone walls, hammocks and beautiful wood communal tables. 
The building itself is a restored one-level colonial-style dwelling centred around an open-air courtyard. The owners, Phoebe and Seddy, did a marvellous job of the decor and the comfort of the minimalist rooms. Each room is dressed in only the highest quality sustainable fabrics and goods, some of which are sold in their little shop.
The Kip also offers an outside cafe that serves some of the best brunches in the biz. If the price tag of a night here is out of your budget, definitely make sure to spend a lazy morning enjoying the food and drink on offer in one of my fave Weligama restaurants. Especially deserved after a morning catching waves at the best Weligama surf spots.
WHERE | The Kip Sri Lanka
#3 Spend an afternoon at Secret Beach in Ahangama
Yes, Sri Lanka's southern coastline is peppered with secret beaches for you to enjoy. This one is just down the street from The Kip. This hidden beach is small but glorious, nooked behind a rock outcrop.
Considered a locals beach, you will find just two stalls offering you fresh-cut coconuts for sipping and locals frolicking in the surf. Roll out your beach blanket and spend the afternoon lounging in the sun and taking a dip in the ocean, rinse and repeat.
WHERE | When walking from The Kip, stroll to the end of the road that intersects with the main coastal road. There, you will find a large, white, semi-abandoned building right in front of you on the beachfront. Walk to the right of this building and you will find a small dirt path to Secret Beach or as google maps calls it, Sampath Beach.
#4 Watch the Sunset from The Lighthouse, Ahangama
The best sunset I witnessed in Sri Lanka was from The Lighthouse. This towering accommodation, right on the water in Ahangama, also has a rooftop bar, perfect for grabbing a cold one and watching the sun go down. 
As a bonus, you can also watch the surfers catch waves right out front, making for a pretty epic scene. Expect a backdrop of saturated pinks and purples with swaying palm trees and crashing waves on the rocks.
WHERE | The Lighthouse, Ahangama
TIP | Grab a seat along the railing around 5:30 pm in order to get the best view of the sunset before the crowd arrives and experience one of the best things to do in Weligama.
#5 Be amongst the Action at Ceylon Sliders, Weligama
If you prefer to be in the thick of things, Ceylon Sliders is your place. This hopping hipster food joint slash accommodation slash shop is right in the heart of Weligama. 
Reputed as 'the place where all the cool kids hang', Ceylon Sliders offers trendy rooms, with a side of turmeric lattes and falafel bowls. The rooftop dining here is also quite the treat and a great place to enjoy their pricey, yet mouthwatering cocktails.
WHERE | Ceylon Sliders, Weligama
EAT | Take a peek at the Ceylon Sliders menu
BOOK A STAY | Book your Stay at Ceylon Sliders in Weligama
#6 Beach Rope Swings in Unawatuna
The beaches along the coast of the town of Unawatuna are home to the insta-famous rope swings. The iconic activity on a lot of Sri Lanka tourist sites, they are popular for a reason.
Set on a white sand beach, with the sunset as your background, this is a great place to have some fun and also get the perfect shot. If you have some time set aside, head to Unawatuna around 3pm and enjoy the beach before taking to the rope swings around 5:30pm.
Beware, due to their popularity, you will likely have to line up to get your shot, so keep this in mind.
WHERE | Rope Swings on Dalawella and Wijaya Beaches in Unawatuna
COST | Locals have started charging for this activity, expect to pay 500 LKR
#7 Day Trip to Historic Galle Fort
If you don't plan on making your way to Galle Fort as part of your Sri Lanka itinerary, I'd suggest adding a day trip to the historic capital of the south. Large walkable fortified walls, a white-washed lighthouse, quaint streets with pretty facades and an abundance of history are a few highlights of this Sri Lankan fort.
Built by the Portuguese in 1588 and later fortified by the Dutch in the 17th century, this European-style fort is a great way to spend a day.
READ MORE | What to do, see and eat in Galle Fort, Sri Lanka
WHERE | Galle Fort, Sri Lanka
BOOK A TOUR | Full Day Tour of Galle Fort and Surrounding Area
#8 Stroll Along Mirissa Beach
Located a 10-minute tuk-tuk ride East from Weligama, the town of Mirissa sits just behind the spit of Weligama Bay. Here you will find glistening golden sand with splashy turquoise waves, perfect for a stroll along the water's edge. 
Mirissa Beach comes complete with food, drink and washroom amenities, so you could spend a good part of the day lounging, people watching and enjoying the feel of soft sand between your toes. If you've partaken in a surf lesson at Weligama Beach prior to your visit or are already a competent surfer, you can try the slightly more challenging waves that Mirissa Beach has to offer.
READ MORE | My essential guide to Mirissa, Sri Lanka
WHERE | Mirissa Beach, Sri Lanka
TIP | Arrive at the beach before lunch as Mirissa Beach is quite popular for all-day hangs.
#9 Take an Ayurvedic Cooking Class
Maybe by this point in your trip you are hankering for western food, or maybe not. Whatever the case, make sure to experience some authentic Sri Lankan cooking. Welle Gedara Homestay & Cooking offers a demonstration of the ayurvedic culinary practices of the locals (yes, you get to eat it too!).
Warm spices, zingy citrus, and creamy coconut milk are all elements found in the small home-style kitchen, where you will watch the chef cook as he explains how Ayurvedic food is such a life source for the Sri Lankan people.
WHERE | Welle Gedara Homestay & Cookery
BOOK | Book your cooking demonstration at Welle Gedara Homestay & Cookery
TIP | Please note that the menu offered at Welle Gedara is strictly vegan and gluten-free
Best Places to Eat in Weligama
Besides Ceylon Sliders, these were my faves:
NOMAD CAFE + BOUTIQUE | Craving a healthy and refreshing lunch after a morning of surfing? The tofu or poke bowl at Nomad is just the ticket. Plop yourself down in their back courtyard and sip on a tropical smoothie while enjoying the cute decor. See location here.
RISE ITALIAN RESTAURANT + B&B | Sometimes, you just have to have some 'zza and here's the place to do it. I had the classic margherita, and couldn't have been happier. See location here.
WELIGAMA ROTI SHOP | With seating right on the beach, this Sri Lankan roadside stall offers the famous Kottu Roti, along with specialties such as seafood, fried fish and fruit juices. See location here.
More Essential Guides For Sri Lanka
Want to continue planning your trip to Sri Lanka?
Check out my 3 WEEK SRI LANKA ITINERARY or if you prefer to determine the route yourself, read the specialized guides below for some of the best experiences in Sri Lanka:
SRI LANKA BUCKET LIST | Get inspired by all that Sri Lanka has to offer. Here are my Sri Lanka highlights.
SRI LANKA TRAVEL TIPS | Prepare for your Sri Lanka trip by reading my 21 top tips on what you should know before visiting the beautiful teardrop isle
KANDY | Bustling market streets, quiet strolls around the lake, lush botanical gardens, and ornate Buddhist temples, the cultural capital of Sri Lanka has it all
ELLA | Nestled in the green centre of Sri Lanka, this hiker's paradise features trails with panoramic views of jagged green hills, deep valleys and rushing waterfalls.
YALA NATIONAL PARK | Majestic elephants, elusive leopards, and a myriad of bird species can all be found in one of the biggest national parks in Sri Lanka.
MIRISSA | A small surf town located 15 minutes away from Weligama, offers golden beaches, surfing, serene spas, and healthy food.
GALLE FORT | Fortified stone walls, dutch and Portuguese style architecture, great food and shopping all culminate in this little town that was once a major Sri Lankan trading post.
SRI LANKA PACKING LIST | Take the guesswork out of packing and easily check off my list to all things you will need for Sri Lanka's warm climate
Click image below to save pin for later!