The Best Guide to Visiting Yala National Park, Sri Lanka
World-renowned for leopard sightings, visiting Yala National Park is the best place in Sri Lanka to see a diverse number of species in their natural habitat. A Yala National Park safari is a must on anyone's Sri Lanka bucket list. A Yala National Park Sri Lanka safari will have you spotting Asian elephants, spotted deer, crocodiles and bird species galore. 
To ensure you see as many animals as possible, give yourself time to take a morning and afternoon Yala safari in Sri Lanka.
Here's everything you need to know before visiting Yala National Park in Sri Lanka.
READ MORE |  This 3 weeks in Sri Lanka itinerary includes 2 safaris in Sri Lanka
*This post may contain affiliate links, which means I may receive a commission, at no extra cost to you, if you make a purchase through a link. Please see my full disclosure for further information.
Yala Sri Lanka Quick Guide
Yala National Park Safari Guide
About Yala National Park
One of the most popular Sri Lanka national parks, Yala National Park at a size of 980 square kilometres is visited over 650,000 times a year. Yala consists of 5 different blocks, of which only block 4 is closed to the public to ensure the park animals and landscapes are protected from over-tourism.
The park runs from the inland jungle to the golden coastline of the Indian Ocean and features red earth, lakes and arid landscape vegetation. There are a total of 3 different entrances for visiting Yala National Park.
Where is Yala National Park?
Yala Park is situated on the Southeast corner of the island of Sri Lanka and cradling the boundary of Uva and Southern Province. Yala national park is about a 4-hour bus ride from Ella or 6 hours from Galle Fort. 
Yala National Park Animals
Home to over 44 mammal and 215 bird species, you can expect to see large packs of Asian elephants (including babies!), sloth bears, spotted deer, peacocks, crocodiles and of course, the majestic Yala leopard. The wildlife in the park is plentiful.
The size of the park will affect how many animals you see on any given safari Yala. To ensure you see as much wildlife as possible, take a proper safari tour arranged by your Yala National Park hotel.
NOTE | Yala National Park leopards are elusive creatures, so seeing one is not guaranteed. It's common to see one every day for a month and then not see one for a week. I'd say you have about a 1 in 3 to 50/50 chance of spotting a leopard.
Best Time to Visit Yala National Park, Sri Lanka?
Sri Lanka has two distinct monsoon seasons, each striking the northeast and southwest coasts at opposite times of the year. The best time for visiting Yala National Park is during the driest months of May to August, but can be visited all year round due to the mild rainy season weather.
December and January are the busiest months in Yala National Park as international and domestic tourists alike flock to the park on various holidays.
Weather in the southeast of Sri Lanka fluctuates only a couple of degrees (roughly between 29 and 31 celsius), so you can visit Yala National Park any month of the year. Bring a warm sweater with you for the early morning Yala safari jeep tour starts.
TIP | Be aware that in September and October, Yala Sri Lanka closes down for maintenance.
Love food? Here is my guide to the Best Cafes in Southern Sri Lanka
How many days in Yala National Park?
A one-night stay, arriving around lunchtime, should be the bare minimum you spend in Yala National Park. That allows time for an afternoon safari and then a morning safari the next day before heading off either west towards Mirissa, or North towards Ella. I
f you have time to spend 2 nights in the best national park in Sri Lanka that will ensure your visit is more successful.
How to Get to Yala National Park
Sri Lanka
How to Get from Ella to Yala National Park

Take the bus from Ella bus Station bound for Wellawaya, before changing to the bus bound for Tissa, about a 4-hour journey. If you'd like to quicken your pace by taking a taxi, it will cost you upwards of $30 USD.
How to get from Mirissa to Yala National Park
Take any bus from Mirissa heading to Matara. Alternatively, you can hire a tuk-tuk from Mirissa to take you the 25-minute journey. Once you've reached the Matara bus station, jump on the #32 ($0.50 USD) that will take you all the way to Tissa, one of the main hubs for accessing Yala National Park (a 3.5-hour drive).
If neither of those sound appealing, you can take this guided tour from Galle or Mirissa that will pick you up and drop you off from your hotel.
BOOK A TOUR | Yala National Park Safari from Galle or Mirissa
TIP | Make sure you have small denominations of Sri Lankan rupees available as the bus driver will not give you change until the end of your bus ride.
NOTE | Sri Lanka busses along the south coast are not air-conditioned, so you are in for a sweaty, yet authentic experience
Where to Stay near Yala National Park
Sri Lanka Yala National Park has two main hubs for accommodation outside of the gates: Tissamaharama (Tissa) and Kataragama. These two towns are where the majority of visitors to Yala in Sri Lanka base themselves and most. of the Yala National Park hotels are located. If you want the ultimate safari experience and have the money to spend, book a stay inside the gates of the park at one of the luxury bungalow resorts.
Where to Stay in Tissa + Karinda
Located close to the ocean at the southwest corner of Yala National Park, you will find the hub of Tissa and the adjacent village of Karinda. Here, there are plenty of safari camps to suit your budget, (ranging from $13 – 250 USD).
This is the main stop for most tourists along their Sri Lanka route with close proximity to block 1 and 2 along the coast. The main entrance is at Palatupana, a 21km drive from the centre of Tissamaharama, due east.
Here are a couple suggestions on where to stay in Tissamaharama or Karinda:
CINNAMON WILD YALA | LUXURY
Located 5 minutes from the Palatupana entrance this luxury resort comes complete with individual chalets dotting the jungle right at the edge of the Indian Ocean. Spa, restaurant and daily excursions are all available on site.
EKHO SAFARI TISSA | MID-RANGE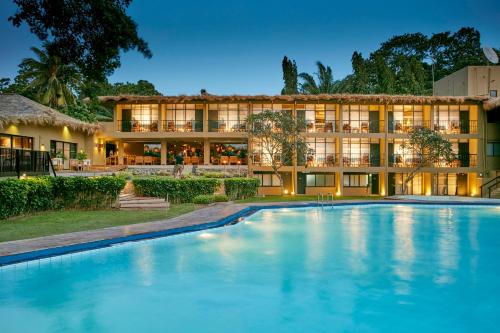 Located right on Tissa Lake, this beautiful hotel offers a pool with plenty of loungers, spacious bathrooms, and a buffet or a la carte breakfast.
HOTEL SENORA | BUDGET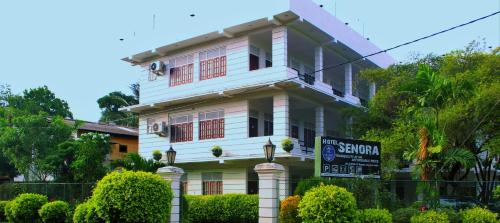 Basic and clean rooms in the heart of Tissa.
 Looking for some Sri Lanka inspiration? Check out my Sri Lanka Bucket List
Where to Stay in Kataragama
A little less known than Tissa, Kataragama is located on the west side of the Yala National Park. Here you will find a smaller selection of safari camps to choose from, ranging from $12 – 170 USD, with access to the park through the Katagamuwa entrance, a 12km drive from the city centre of Kataragama.
Kataragama can also access the entrance gate at Galge, a 19km drive north of the town, with access to blocks 3 and 5. Animals in this area of the park are much warier than vehicles, making sightings here hit and miss, but still one of the best things to do in Yala.
TIP | This side of the park offers fewer elephant sightings but will give you a greater chance of seeing a leopard. I managed to see a mother and her two cubs at the end of my outing, which was a real shock, given that I hadn't seen much wildlife other than a crocodile and some really cool birds. You will not always have my luck though, as leopards are an evasive mammal.
Here is a collection of accommodation options in Kataragama, Sri Lanka National Park Yala:
BIG GAME – YALA | LUXURY
A glamping accommodation just outside of Yala's Katagamuwa Gate, Big Game Camp Yala offers enclosed tents with comfy beds, flush toilets and running hot water showers. A true Yala camping experience. They offer an evening bonfire experience with beverages and a 3-course meal.
TAMARIND LAKE HOTEL | MID-RANGE
This midrange casual three-story hotel sits on a tree-lined property with a pool. Free parking is available on site.
SERENITY KATARAGAMA | BUDGET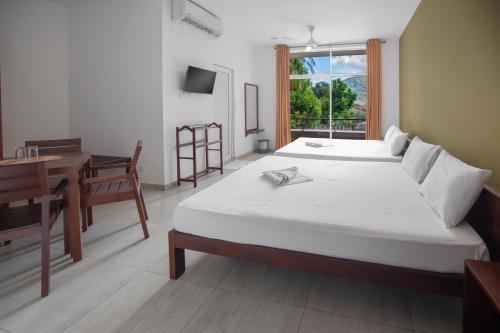 An economical motel-style accommodation in the heart of Kataragama that comes complete with refurbished air-conditioned rooms.
CHECK PRICES + AVAILABILITY
Yala National Park Safaris
There are two different times of day that Yala safari tours are allowed visiting Yala National Park, 6 am and 2 pm. Yala safari Sri Lanka tours usually last 3-4 hours and can access the park through one of the three park entrances: Palatupana (out of Tissa), Katagamuwa and Galge (out of Kataragama). Taking an organized safari tour can ensure you see as many animals in the park as possible. And having a park guide aboard your jeep to teach you about Sri Lanka national park animal life and habits is absolutely invaluable. The Yala National Park safari price depends on what inclusive safari tour you take (see below for options).
BOOK A SAFARI | Inclusive Yala National Park safari options
Looking for more to do in Sri Lanka? Peruse my guide on things to do in Weligama
Yala National Park Entrance Fee + Yala Safari Price
Yala National Park entrance fee is approximately 3,700 LKR, but this number can fluctuate based on what block you'd like to visit and if you are doing a half day or full day safari.
An organized safari in Sri Lanka of Yala National Park arranged by your hotel can cost anywhere from 4,000 to 6,000 LKR, while larger outfits like Viator (great for solo travellers!) can charge from $40 – 75 USD depending on the length of your safari.
Driving with your Own Car in Yala National Park
Personal cars are allowed into Yala National Park, but only SUV-type vehicles that come equipped with 4 wheel drive. You will need to hire a tracker to be permitted into Yala, which can be done at the park gate and is a good idea for visiting any national parks in Sri Lanka.
Personal motorcycles or smaller cars are not able to enter the park due to safety issues (potholes and elephants!).
Yala National Park versus Udawalawe National Park
If you don't have an abundance of time to spend adventuring in all of the national parks of Sri Lanka, it can be hard to choose which one to spend your valuable time in.
It's pretty simple, Yala National Park is known for leopard sightings, drier landscapes and Indian Ocean views, while Udawalawe is known for large herds of Asian elephants, is smaller and has a lusher landscape. You choose!
BOOK A TOUR | Visiting Udawalawe National park? Check out this guided tour
Don't Visit Pinnawala Elephant Orphanage
Made popular by large travel influencers flocking to Pinnawala Elephant Orphanage to get a photo with elephants, it can be tempting to add this to your Sri Lanka bucket list. Just don't. Since the media hype surrounding this place a few years back, the orphanage has started to withhold rereleasing elephants into the wild and keeping them on-site for the amusement of tourists instead.
As a strong advocate for ethical animal treatment, I suggest you forgo the Pinnawala Elephant Orphanage and opt for a more authentic national park Sri Lanka experience where you can watch elephants in their natural habitat.
MORE ESSENTIAL GUIDES FOR SRI LANKA
Want to continue planning your trip to Sri Lanka?
Check out my 3 WEEK SRI LANKA ITINERARY or if you prefer to determine the route yourself, read the specialized guides below for some of the best experiences in Sri Lanka:
SRI LANKA BUCKET LIST | Get inspired by all that Sri Lanka has to offer. Here are my Sri Lanka highlights.
SRI LANKA TRAVEL TIPS | Prepare for your Sri Lanka trip by reading my 21 top tips on what you should know before visiting the beautiful teardrop isle
KANDY | Bustling market streets, quiet strolls around the lake, lush botanical gardens, and ornate Buddhist temples, the cultural capital of Sri Lanka has it all
ELLA | Nestled in the green centre of Sri Lanka, this hiker's paradise features trails with panoramic views of jagged green hills, deep valleys and rushing waterfalls.
WELIGAMA | Where surf culture is alive and thriving, this central town is located on the golden south coast of Sri Lanka and offers the best surf beach for beginners, and an abundance of traditional and modern eateries.
MIRISSA | A small surf town located 15 minutes away from Weligama, offers golden beaches, surfing, serene spas, and healthy food.
GALLE FORT | Fortified stone walls, dutch and Portuguese style architecture, great food and shopping all culminate in this little town that was once a major Sri Lankan trading post.
SRI LANKA PACKING LIST | Take the guesswork out of packing and easily check off my list to all things you will need for Sri Lanka's warm climate
CLICK IMAGE BELOW TO SAVE PIN FOR LATER!