Visiting Sigiriya: Your Guide to the Historic Centre of Sri Lanka
Visiting Sigiriya on your Sri Lanka trip?
Palm tree-lined roads, jungle plains, red rock outcrops, glistening blue lakes, and the odd roaming elephant – welcome to Sigiriya! This small village located in the northern centre of Sri Lanka is home to Sigiriya Rock Fortress, also known as Lion Rock Sri Lanka, one of the most historical places in Sri Lanka.
But, that's not all this area has to offer, Sigiriya tourist attractions like scenic elephant safaris, Buddhist cave temples and ancient cities can be found here too.
To thoroughly enjoy the historic triangle of Sri Lanka, make sure to spend at least 2 days here to experience all of the best things to do in Sigiriya.
This guide has you covered with all the pertinent information about Sigiriya, including weather in Sigiriya, location of Sigiriya, Sigiriya visiting hours, and any other important details about Sigiriya you'll need to make your trip the best it can be.
Looking for the ideal Sri Lanka route guide? See my 3 Week Sri Lanka Itinerary
*This post may contain affiliate links, which means I may receive a commission, at no extra cost to you, if you make a purchase through a link. Please see my full disclosure for further information.
Where is Sigiriya?
Located in the green Central Province of Sri Lanka, Sigiriya is about a 1.5 hour train ride north-east from the capital city of Colombo.
Sigiriya with a population of only 1,000 residents is known mainly for the Lion Rock Fortress, an ancient elevated royal city.
Click the Sigiriya map below to take you to Google Maps.
Best Time to Visit Sigiriya Sri Lanka
Sri Lanka has two distinct monsoon seasons, each striking the northeast and southwest coasts at opposite times of the year. The best time to visit Sigiriya in the centre of the country is during the driest months of January to April, as the monsoon hits this part of Sri Lanka between May to September.
The winter in this area that is characterized by wet and windy days lies between October and December but can provide great deals on accommodation in Sigiriya during this time.
How to Get Around Sigiriya
Walking
What I consider to be the best way to see a place, walking can enhance your experience with a combination of exercise and time to notice the details. Due to the small size of the village of Sigiriya, albeit a bit spread out, it maintains a high walkability level.
Tuk-tuk
If you decide to enjoy the outlying activities, such as the Rock Fortress of Sigiriya or Dambulla Cave Temple Complex, hailing a tuk-tuk is your best bet. A tuk-tuk ride is super fun and can provide you with a chance to chat with a local. You can also opt for a Sigiriya taxi but that will come with a higher price tag.
TIP | Haggling is a must and make sure you stick to your guns and finalize the price before getting into the tuk-tuk.
Bus
Sri Lanka's local bus system is one of the most economical ways to get around the island. Between Sigiriya, Dambulla, Anuradhapura and Polonnaruwa the bus runs frequently and a trip will only cost you a mere $0.50 USD.
TIP | Make sure you have small denominations of Sri Lankan rupees available as the bus driver will not give you change until the end of your bus ride.
No idea what to pack? Follow my comprehensive Sri Lanka Packing List
Where to Stay in Sigiriya Sri Lanka
As the main town in the historic triangle of Sri Lanka, Sigiriya enjoys a central location between neighbouring towns of Habarana and Dambulla and has a good range from budget hotels in Sigiriya to mid-level hotels in Sigiriya.
I've recommended three hotels near Sigiriya below, but you can also search for all options for hotels in Sigiriya Sri Lanka using Booking.com.
HERITANCE KANDALAMA | LUXURY
An architectural marvel and one of the best 5 star hotels in Sigiriya, this luxury accommodation is one with nature and situated right on Kandalama Lake. Three pools dot this jungle property with panoramic views of Sigiriya Rock and more.
BACK OF BEYOND | MID-RANGE
Economical tree house style villas and Sigiriya hotel nestled in the jungle near Pidurangala offer private washrooms and an onsite restaurant serving some amazing authentic Sri Lankan fare.
SHADY MANGO VILLA | BUDGET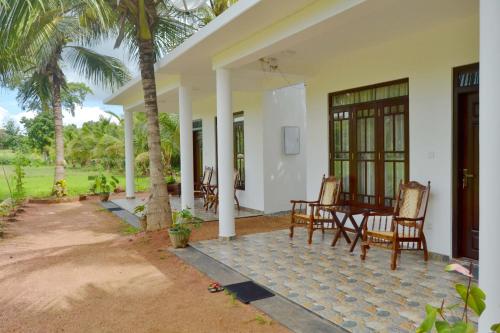 Located close to Sigiriya Fortress is this cozy budget-friendly homestay, with individual whitewashed air-conditioned rooms with basic amenities and free breakfast. If you are looking for a good value hotel in Sigiriya, this is a really good bet.
Things to Do in Sigiriya – Sri Lanka's Historic Triangle
Explore the Dambulla Cave Temple Complex
Located right outside of the city of Dambulla, the UNESCO Rangiri Dambulla cave temple complex has stood for more than 22 centuries as a sacred pilgrimage site, refuge and monastery. Up 525ft, embedded in a rock face, lies five cave shrines each with a plethora of immaculately made Buddhist statues. The caves are a must if visiting Sigiriya Sri Lanka. Monkeys can also be found here, a regularity at most tourist sites in Sri Lanka. They'll mind their own business if you mind yours.
WHERE | Dambulla Cave Temple Complex, Sri Lanka
How to get from Sigiriya to Dambulla Cave Temple | Taking a taxi or tuk tuk is the quickest way to get there and will only take 25 minutes. Alternatively, you can hop on the bus on the main road in Sigiriya and get off at the Dambulla bus terminal. From there it is a 15 minute walk to the entrance.
COST | Dambulla Cave Temple entrance fee is 1500 LKR ($8 USD)
TIP | Go before the heat of the day hits the cave temple! As with all Buddhist temples, you will be required to take your shoes off before entering the complex, and the rock flooring of the cave exterior heats with the sun. I went around 4pm and was running like a hot potato across the stones in my bare feet to get from cave to cave. Highly recommend going in the early to mid-morning.
TIP | Make sure you grab a ticket from the ticket centre before braving the 364 stairs to the top, otherwise, you won't be allowed in
Climb the Iconic Sigiriya Rock Fortress in Sri Lanka
The ancient city of Sigiriya is home to Lion Rock in Sri Lanka, a UNESCO World Heritage Site, and what a sight it is! An otherworldly formation of rusty red rock protrudes from the lush jungle, formerly the Sri Lankan capital city, ruled by King Kashyapa in the 5th century.
The rock itself displays beautiful Sigiriya frescoes, lion statues and staircases, but is also surrounded by expansive water gardens Sigiriya. Beware the line of tourists can grow as the day goes on, making climbing Sigiriya rock tiresome at midday.
Go early around 7am to get the most out of the Sigiriya Lion Rock. Visiting Sigiriya Rock Fortress is many people's favourite things to do in Sigiriya, and for good reason.
WHERE | Sigiriya Lion Rock Fortress, Sri Lanka
BOOK A TOUR |  Walking tour of Sigiriya Rock Fortress
How to get to Lion Rock Fortress from Sigiriya | Grab a tuk-tuk from your accommodation and make the short journey to the Lion Rock Sigiriya entry gate. Depending on how far away your hotel is from the site, you can walk the distance.
COST | Sigiriya Rock entrance fee is $30USD, among the more expensive entrance fees in the country and especially when you visit Sigiriya
HOURS | Sigiriya visiting hours are 7AM-5:30PM (last entrance at 5PM)
TIP | Bring a reusable water bottle with you, as park personnel will check your daypack for plastic water bottles and baggies. Let's all do our part to leave the country as clean as we found it. Here is one of my favourite purifying water bottles.
Catch a Sunset on Pidurangala Rock Sigiriya
With impressive views of Lion Rock Sigiriya, the alternative hike of Pidurangala Rock is only a 5 minute tuk tuk ride away. The hike will take around 40 minutes each way, with a medium difficulty climb and a bit of boulder scrambling at the very top. Don't worry, there's a rest spot half way up with a beautiful reclining Buddha statue.
Go for sunset to get the most epic photos of Sigiriya lion rock and experience a different perspective while visiting Sigiriya. This is of the most underrated Sigiriya visiting places, and for that reason is something worth taking time for.
WHERE | Pidurangala Rock, Sigiriya
COST | Pidurangala Rock entrance fee is 500 LKR ($3 USD).
TIP | If you haven't come prepared with appropriate temple attire, you will need to collect a free scarf from the temple for covering up shoulders and knees before heading up. After the temple you are able to take the scarf off.
Safari in Sigiriya at Hurulu Eco Park, Kaudulla or Minneriya National Park
Depending on the time of year, the elephant migration may take you to the Hurulu Eco Park. Here you can see large herds of Asian elephants (including babies!), on a large jungle plain.
My overall experience was good, but as an opponent of elephant orphanages and camel rides, I was skeptical. At the end of the day, the elephants didn't seem to be bothered by our presence, but there were points during the safari when the number of jeeps far outweighed the number of elephants. This has become a major problem in recent years as the popularity of Sri Lanka increases.
If this bothers you, definitely opt to visit the Minneriya National Park or Kaudulla National Park, where there is no doubt that the elephants are in their natural habitat.
WHERE | Hurulu Eco Park, Kaudulla National Park or Minneriya National Park
BOOK A TOUR | Private tour of Minneriya National Park 
COST | Entrance fees for Hurulu Eco Park, Kaudulla National Park or Minneriya National Park range from $15 – 18 USD.
Visit the Sacred City of Anuradhapura
The sacred city of Anuradhapura, a Ceylonese political and religious capital that thrived for 1,300 years is located about a 1.5-hour drive from the village of Sigiriya in Sri Lanka. The UNESCO world heritage site and historical place in Sri Lanka can easily be reached as part of a day trip when visiting Sigiriya. The city was situated around a cutting from the 'tree of enlightenment', the Buddha's fig tree, brought to Sri Lanka in the 3rd century B.C.
Anuradhapura was abandoned after an invasion in 993, and was concealed in the heavy jungle for many years after. This sacred city features monasteries, monuments and palaces, and so many famous monuments of Sri Lanka so make sure to spend the majority of your day here.
WHERE | Anuradhapura, Sri Lanka
BOOK A TOUR | Private tour of the ancient city of Anuradhapura
How to get to from Sigiriya to Anuradhapura | Take a bus or tuk-tuk to Dambulla, then transfer to a bus heading for Anuradhapura
COST | Anuradhapura entrance fee is 3,920 LKR ($25 USD). If you'd like to opt for an all-inclusive experience, you can book an organized day trip for $40 USD to Anuradhapura here.
TIP | To enhance your experience, hire an English speaking guide at the gates. Prices range from 850 – 1000 LKR (between $4 – 6 USD)
Take a Day Trip to Polonnaruwa
After the destruction of Anuradhapura in 993, the second capital of Sri Lanka, Polonnaruwa was created. This city, located a 1.25 hour drive east from Sigiriya was once a fabulous garden-city built in the 10th century. Deemed a UNESCO world heritage site, Polonnaruwa features domed temples, swimming pools, palaces and audience halls.
WHERE | Polonnaruwa, Sri Lanka
How to get from Sigiriya to Polonnaruwa | Catch a bus or tuk tuk to Dambulla (about a 25 min ride) and get off at Inamaluwa Junction. Then, catch a bus heading toward Polonnaruwa, a 1.5 hour journey).
COST | Polonnaruwa entrance fee is 3,920 LKR ($25 USD). You can also arrange a private day tour that will pick you up at your hotel in Sigiriya and take you to all the main attractions in Polonnaruwa starting at $64 USD).
TIP | Rent a bicycle to easily get around this small ancient city which can be rented outside the main gate for just a few rupees
TIP | Anuradhapura versus Polonnaruwa | Anuradhapura offers a more lively town centre with prominent Buddhist devotion, while Polonnaruwa is more peaceful, smaller and condensed with more well preserved artistic monuments and takes shorter to peruse. You choose! If you have the time when visiting Sigiriya, definitely try to fit both into your schedule
Where to Go After Sigiriya
You have a couple of options here for your next destination after visiting Sigiriya:
JAFFNA | First, you could head up to the cultural capital of the North, Jaffna. This city is home to the majority of Muslim residents, and the devastation of the recently lost civil war is apparent. This shouldn't dissuade you though, the city is full of great culture and people and since it's not on any usual route guides for Sri Lanka, you'll find fewer tourists and more Sri Lankan authenticity.
TRINCOMALEE | Secondly, you can head out to the northeast surf spot of Trincomalee where the beaches are less busy and more expansive than in the south. This surfing and whale watching destination is also less developed, so don't expect to get a myriad of western food options. It's the perfect opportunity to truly connect with the local people and try a Sri Lankan curry!
KANDY | If time is tight, head straight to the cultural capital of Kandy using my ideal Sri Lanka route guide. The best way to get from Sigiriya to Kandy is by grabbing a tuk-tuk to the bus station in Dambulla. From there you can take a bus to Kandy. This will cost you less than $10USD and will take 3 hours.
More Essential Guides for Sri Lanka
Want to continue planning your trip to Sri Lanka?
Check out my 3 WEEK SRI LANKA ITINERARY or if you prefer to determine the route yourself, read the specialized guides below for some of the best experiences in Sri Lanka:
SRI LANKA BUCKET LIST | Get inspired by all that Sri Lanka has to offer. Here are my Sri Lanka highlights.
SRI LANKA TRAVEL TIPS | Prepare for your Sri Lanka trip by reading my 21 top tips on what you should know before visiting the beautiful teardrop isle
KANDY | Bustling market streets, quiet strolls around the lake, lush botanical gardens, and ornate Buddhist temples, the cultural capital of Sri Lanka has it all
ELLA | Nestled in the green centre of Sri Lanka, this hiker's paradise features trails with panoramic views of jagged green hills, deep valleys and rushing waterfalls.
YALA NATIONAL PARK | Majestic elephants, elusive leopards, and a myriad of bird species can all be found in one of the biggest national parks in Sri Lanka.
WELIGAMA | Where surf culture is alive and thriving, this central town is located on the golden south coast of Sri Lanka and offers the best surf beach for beginners, and an abundance of traditional and modern eateries.
GALLE FORT | Fortified stone walls, dutch and Portuguese style architecture, great food and shopping all culminate in this little town that was once a major Sri Lankan trading post.
SRI LANKA PACKING LIST | Take the guesswork out of packing and easily check off my list to all things you will need for Sri Lanka's warm climate
Click Image Below to Save Pin for Later!