Pollonia Milos: The Complete Seaside Village Guide
Pollonia Milos, located in the Cycladic island group of Greece is a quiet and picturesque Milos fishing village. But, what makes Appolonia Milos extra special, is its proximity to quality food and access to a large sandy stretch of sand. Really, you never have to leave Pollonia Milos if you don't want to.
Imagine walking out of your cute Cycladic-designed sugar-cube apartment onto the golden sands of Pollonia Beach. At lunch, you can mosey on over for a bite to eat at a top-rated seafood joint. Grab yourself a glass of Melian wine or craft cocktail and sit on the patio overlooking the scenic inner harbour of Milos Pollonia. Rinse and repeat. What a life.
As one of my top recommendations on places to stay on Milos, Pollonia Milos Greece has it all.
This guide will walk you through where Pollonia Milos is, how to get there, where to stay in Pollonia village Milos, things to do and where to eat your heart out.
Happy travels!
Travelling elsewhere in the Cyclades Islands? Read Greece itinerary 10 Days
*This post may contain affiliate links, which means I may receive a commission, at no extra cost to you, if you make a purchase through a link. Please see my full disclosure for further information.
Milos Quick Guide
Planning a last-minute trip to Milos? Here are the top-rated tours, Milos accommodation and transportation to make your booking a breeze:
Where is Pollonia Milos
The island of Milos has a unique horseshoe-shaped configuration in the Cycladic island group of Greece. Along the outer edge of the horseshoe on the furthest northeast tip of the island, Pollonia enjoys quaint harbour views and a quiet sandy stretch of beach.
Click the Pollonia Milos Greece map below to access an interactive Google Maps version of Pollonia.
How to Get to Appolonia Milos
How do I get to Pollonia Milos? Well, you have plenty of great options at your disposal to reach this charming hilltop locale.
The best way to visit Pollonia Milos is via car, ATV, scooter, bus, or taxi. Appolonia Milos, in particular, can be explored during a pretty epic organized day tour, too.
You can reach Pollonia from the ferry port in Adamas Milos in 20 minutes.
Organized Day Trip of Milos Highlights
This is one of the best ways to see Milos if you are limited on time and don't want to rent a vehicle. Plus, the addition of an expert Milos guide to provide you with in-depth information into the culture and history of Milos will amount to a more fulfilling experience.
This epic 4-hour organized day trip, (option to start in Pollonia) takes you to highlights of the island including the village of Plaka Milos, the ancient ruins of the Milos theatre, Phylakopi and the picturesque village of Klima.
Along the way, you will see how local dairy and wine products are made, and of course, one of the best beaches in Milos, Sarakiniko.
BOOK | Milos Archaeology + Culture Tour
Car Rental Milos Appolonia
Milos is graced with smooth and well-divided main roads, making renting a car to get to Pollonia Milos the best option.
If there are more than two of you, or you just love the convenience of a full-sized vehicle, then a car rental is for you. Appolonia Milos can be reached on the main road from Adamas within 20 minutes.
Where driving in Milos can get a bit tougher is near the best Milos beaches like Firiplaka and Tsigrado, this is when a car hire Milos comes in handy.
Check out Car Rentals in Milos for pricing and availability.
Scooter + ATV Rental Milos
If there are only two of you, or you decide to visit Pollonia Milos solo, then a scooter or ATV rental is a great way to see the island.
We rented from Apollonos Sunshine which I believe was the best ATV rental Milos could possibly offer. The customer service was great and the bikes and helmets were in mint condition
TIP | Negotiate when renting! And don't pay any higher than €20 in cash for a scooter.
The island of Milos can experience some really windy conditions, especially in summer, and particularly along the main road towards Appolonia Milos. So when considering renting a scooter, make sure you are comfortable on roads with high crosswinds.
Bus to Pollonia Milos
Luckily, arriving in Pollonia by bus is easy and convenient. If you decide to stay in this picturesque village and not explore too much, taking the bus Milos has to offer is a really great option. The bus in Milos is well-established and smooth-running.
To get yourself to Pollonia Milos from anywhere on the island, you can check out the Milos Bus Schedule (subject to seasonal change) for the best route.
As a note, in high season, the bus services Pollonia from Adamas, in particular, runs upwards of 5 times a day starting at 6:45 AM and running as late as 7:30 at night.
Taxi to Pollonia Milos
Like most places, a taxi is one of the quickest ways to get from A to B, and Milos is no exception. Especially once you consider that taxi drivers are locals and know all the fastest roads.
If you have cellular service or WiFi and are uncomfortable driving on unknown roads to get to Pollonia village Milos, you can call a Milos taxi at +30 22870-22219.
I'd recommend taking a taxi as a last resort to get yourself to Appolonia Milos. While taxi drivers on Milos are honest people, they do like to charge a premium to tourists for this service.
Pollonia Milos Accommodation
After an extensive two weeks on the island of Milos, I am confident I can recommend where to stay in Milos, and that includes Pollonia.
Pollonia Milos hotels include apartment-style Air Bnb Milos hotels near the beach for easy access to swimming. Pollonia Milos hotels can also be quaint, family-friendly affairs if that's your cup of tea.
I've also included a couple of Apolonia hotels in Milos for a more luxurious Milos boutique hotel experience. 
This guide includes every Pollonia accommodation in Milos from budget backpacker style suites to quaint seaside apartments to never-leave-your-room type boutique hotels. There is something for everyone when it comes to accommodation Milos Greece has to offer.
READ MORE | Best Area to Stay in Milos Island
Luxury Pollonia Hotels in Milos
Milos Breeze Boutique Hotel is located just up on the hill in the centre of Pollonia, giving it beautiful and expansive views of the harbour. The luxury property comes with indoor and outdoor pools (with epic views, I might add).
Depending on the room you select, you will spend your time with a picturesque balcony, or even a private plunge pool!
Boasting classic modern Cycladic decor of white and blue with hints of medium wood and rock, Milos Breeze is memorable.
BEST FOR | Luxury Seekers, Couples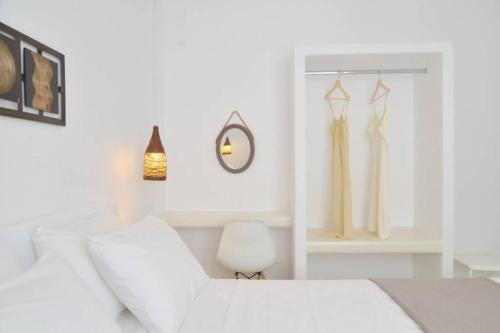 This dreamy two-bed house is located right at the harbour's edge in north Pollonia. The Pollonia sea view apartments come with a convenient kitchenette and dining area, an outdoor patio and a small yard. Just steps away from your front door are one of the prettiest harbour views in Pollonia Milos.
The two queen-sized beds that Casa Mare Pollonia boasts come with white fluffy linens. The apartment also features two bathrooms, so you don't need to share! Of course, free wifi comes with the property.
BEST FOR | Friends, Small Family
Mid-Range Pollonia Hotels in Milos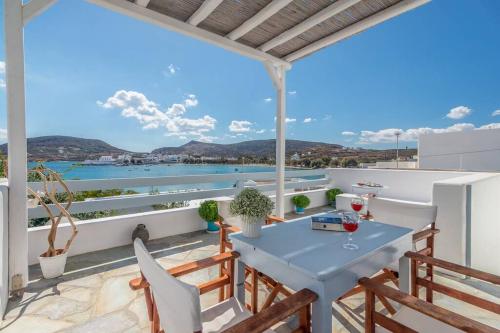 Located on the northern peninsula of Pollonia Milos is the comfortable, well-equipped Visa Mare. This Pollonia sea view apartments Milos has features a large balcony with views of the sea. This Pollonia accommodation also boasts two spacious bedrooms, one complete with a queen-sized bed and one with a bunk bed.

The large combined kitchen, dining and living space has a beautiful Cycladic / French design with light blue details, medium wood furniture and white-washed creamy walls.
Vista Mare is the perfect home away from home!
BEST FOR | Small Families
Pollonia Studios Milos is a stylish studio apartment located in North Pollonia. Within a 5 minute walk of the centre of Pollonia, these studios have plenty of complimentary car parking, spacious bright rooms and an exceptional host that gives great local guidance.
Make yourself a coffee and breakfast in the well-equipped kitchen, take a seat on the lovely balcony and watch the inner harbour of Pollonia. In the evenings, Pollonia Studios has views of the famous Milos sunsets.
BEST FOR | Couple, Friends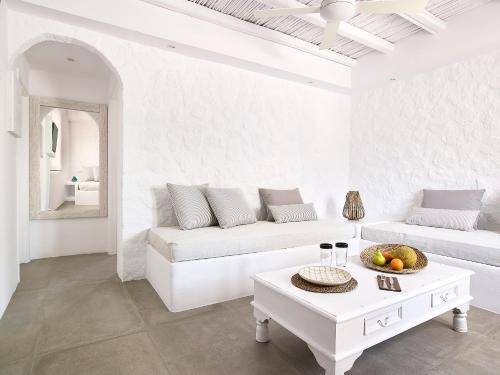 Situated on the south end of Pollonia near some of Pollonia's best restaurants are the spacious Delmar Apartments & Suites.
Boasting a comfortable queen bed, sofa, kitchenette and cozy modern creamy beige decor, booking this spot will feel easy. I'd consider this a pretty great Milos beach hotel with a one-minute walk to the waves of Pollonia's inner harbour.
BEST FOR | Couples, Solo Traveler
WHERE | Delmar Pollonia, Milos Island, Greece
BOOK | Stay at the well-designed Delmar Apartments & Suites Pollonia
Budget Pollonia Hotels in Milos
A quick 5-minute walk from Captain Stavros will have you lazing on the Pollonia Beach and frolicking in the waves in no time. The Cycladic sugar-cube-style apartment building is well located and has everything you need for a great stay in Pollonia.
Each studio room at Captain Stavros comes with a small kitchenette for creating your own meals and a small balcony for enjoying the pretty harbour views. If you are looking for cheap hotels in Milos, this one ticks the box.
BEST FOR | Backpackers, Friends
Things to Do in Pollonia Milos
For the quiet and serenity this fishing village enjoys, there are still quite a few awesome things to do in Pollonia Milos. Beaches near Pollonia Milos include Pollonia Beach itself, plus a couple of iconic beaches a quick 5-10 minute drive away.
Here's a complete guide on what to do in Pollonia Milos:
1. Saint Nicholas Holy Orthodox Chapel
Promnently situated on the northern peninsula of Pollonia is the quaint and beautiful Saint Nicholas Holy Orthodox Chapel. This functioning chapel enjoys views of the entire Pollonia harbour and the nearby island of Kimolos.
Head here any time of day, for beautiful light and great photo opportunities of this charming white and blue chapel.
WHERE | Saint Nicholas Holy Orthodox Chapel, Pollonia, Milos, Greece
Explore the charming capital of Plaka Milos
2. Pollonia Beach Milos
Pollonia's main feature and number one draw to the village is its expansive golden Milos beach. Powdery sand and lapping azure waters are plentiful, and in high tourist season, you can rent a sun lounger and umbrella to laze the day away.
Within a 5 minute walk from anywhere in Pollonia due to its central location, you would assume Pollonia Milos beach is busy and hectic. But, this couldn't be further from the truth. Family-friendly, yes, but quiet, most definitely! Which makes Pollonia one of the best beaches in Milos.
Because Pollonia is mainly a fishing village with a pier, you can expect a small amount of boat traffic here, so if you are the type of person to swim far out, just keep that in mind.
WHERE | Pollonia Beach, Milos, Greece
3. Holy Naidrio of Agia Paraskevi Pollonia Church
Pollonia features not one but two beautiful churches. Located on the southern peninsula of Pollonia Milos is the Holy Naidrio of Agia Paraskevi. This white and blue marvel is centred in a stunning courtyard with expansive views of the coastline.
Step inside the church and a stunning crystal chandelier and historic murals await. In regards to photography, the exterior can be visited at any time of day depending on what angle and light you prefer. The entrance is positioned on the west-facing side.
The ferry port is located right beside the church, so if you are planning a day trip to Kimolos, this is a great attraction to fit in just before.
WHERE | Holy Naidrio of Agia Paraskevi, Pollonia, Milos, Greece
4. Wine Tasting in Pollonia
Pollonia Milos and Milos in general has some spectacular wine on offer. This is true of any Cycladic island, but most definitely on show at Kostantakis Winery in Pollonia. Situated an 11-minute stroll up the road heading southwest, you will find the beautiful, modern wine tasting room at Kostantakis Winery.
From dry white, to dry rose to medium-bodied red Melian vinifications, Kostantakis winery opens at 5 PM daily from May to October for your tasting pleasure.
WHERE | Kostantakis Winery, Pollonia, Milos, Greece
If strolling out of town isn't on the docket, you can experience some beautiful Greek wines at Armenaki Wine Restaurant located in the centre of Pollonia.
5. Diving in the Milos-Kimolos-Poliegos Triangle
As one of the pillars of the Milos-Kimolos-Poliegos Triangle, Pollonia is home to some diverse marine species. You can book a diving experience from Pollonia Milos whether you are a beginner or a PADI licensed diver.
Expect to encounter marine life like the unique monk seal, playful octopuses, colourful nudibranchs, barracudas, spider crabs, and lobsters in the volcanic caves of the triangle of surprises.
The temperature of the water reaches 30 degrees and has a depth of 40 meters.
WHERE | Pollonia Milos Diving Center, Greece
6. Day Trip to Kimolos
Departing from the ferry port just beside the picturesque Holy Naidrio of Agia Paraskevi church, you can catch the Pollonia Kimolos ferry to the underrated Kimolos island. A short 25-minute later you will arrive in the picturesque village of Psathi, Kimolos.
In high season, the ferry runs a few times a day starting at 7:15 AM. Make sure to check the Pollonia to Kimolos Ferry Schedule through Kimolos Link before planning your trip over.
If you want to explore this relatively unknown island for the day, hope on the ferry and the world's your oyster! The town of Psathi itself is quaint with a few great cafe and restaurant options.
Rent a car for the day and take a drive around this verdant island.
WHERE | Pollonia Port Services, Milos, Greece
Best Pollonia Milos Restaurants
The great thing about Pollonia restaurants is the variety on offer. You can expect any of the best restaurants in Pollonia Milos to specialize in something different. So if you decide to stay in Pollonia for a few days or more, you won't get bored.
This curated list on where to eat in Pollonia Milos gives you a bit of everything from designer cocktails, brunch, sushi to traditional Greek cuisine.
DECK MILOS | Great brunch and cocktails
RAKOMELO | Mediterranean cuisine with a pretty harbour view
HANABI SEASIDE SUSHI | Contemporary sushi with seaside digs
YIALOS | Traditional Greek seafood with a modern twist
Nearby Attractions to Pollonia Milos
On the main road between Adamas and Pollonia Milos, there are several must-visit locations. Along the unique landscape of the northern coastline, you will find Papafragas Beach and Caves and the iconic lunar landscape of Sarakiniko Beach.
A hop, skip and a jump further, you find the picture-perfect fishing villages of Mandrakia Milos, and Firopotamos, a 17-minute drive from central Pollonia.
Greece Travel Planning Guide
► What is the best way to book my Greece accommodation?
I always use booking.com for all my accommodations worldwide, and Greece is no exception. I stayed in some really epic places on my adventure around the islands.
For more cozy apartment-style accommodation try VRBO (better and safer than Airbnb).
► What are the best day tours in Greece?
Taking a day tour in Greece is a great way to experience the top attractions and learn from a knowledgeable guide.
I highly recommend these Greece tours:
► What is the best ferry website in Greece?
Hands down, Ferry Hopper is the best ferry website in Greece for booking your Greek island connections. This is how I booked all my Cycladic island ferries and can recommend them.
Ferries on Ferry Hopper can connect you from Athens to any island in the Cyclades including Santorini, Mykonos, Naxos, Paros and Milos (plus more!).
You can choose from the fast ferry boats or the more economical slow ferry vessels and can compare prices on the website before booking.
► Should I rent a car in Greece?
If you are flying in and out of Athens to see the top sights and don't plan to leave the city, I don't recommend renting a car. You can easily get around Athens by walking, taking public transportation, like the underground metro or ride-share services like Uber.
If you are heading to the Greek islands, this is where I would highly, highly (did I say highly?), rent a car in Greece. Islands like Milos, Paros and Naxos are best explored by car hire as the roads are more desolate and attractions are further apart.
I always use and recommend Discover Cars for this. Make sure to book early especially if you plan to visit Greece in the summer! Believe me, they sell out fast.
If you are going to plunk down on a beach for a week in the Greek Cyclades, I wouldn't bother with a car rental. You can take a taxi or local transportation on the island to the beach destination of your choice (after your ferry trip from Piraeus, of course).
► What is the best site to buy flights to Greece?
For finding cheap flights to and within Greece, I recommend booking through Skyscanner.
► Can you drink tap water in Greece?
Yes! You can drink straight from the tap in Athens, Greece's capital. Here the water supply is of good quality but may taste of chlorine depending on what area you are staying in.
Some Greek islands will have warnings against drinking tap water, so make sure to bring a self-filtering water bottle with you (LARQ is my fave) instead of resorting to pesky single-use plastic water bottles.
More Greece Travel Guides

10 Days in Greece Itinerary
Where to Stay in Milos
Top Milos Boutique Hotels
Top Milos Beaches
Adamas Milos Travel Guide
Plaka Milos Travel Guide
Pollonia Milos Travel Guide
Best Town to Stay in Paros
Designer Boutique Hotels in Paros
Top Areas to Stay in Naxos
My Fave Naxos Boutique Hotels