Mandrakia Milos: The Picturesque Fishing Village on Milos Greece
Perched on a small rocky peninsula with an idyllic half-moon harbour is the peaceful and picture-perfect fishing village of Mandrakia Milos.
This sleepy village boasts a prominent church overlooking the crashing waves of the Aegean sea, colourful boathouses and delicious cuisine at the popular Medusa restaurant.
If you are staying in the Greek Islands Milos for more than a few days, I'd recommend staying here for a night or two to enjoy an authentic local living experience.
Now, let's explore one of the most picturesque Milos villages in the Greek Islands.
Milos is included in this epic 10 Day Cyclades Hopping Route
*This post may contain affiliate links, which means I may receive a commission, at no extra cost to you, if you make a purchase through a link. Please see my full disclosure for further information.
Milos Quick Guide
Planning a last-minute trip to Milos? Here are the top-rated tours, Milos accommodation and transportation to make your booking a breeze:
Where is Mandrakia Milos?
Mandrakia is nestled into the cliffside of the northern coast of Milos. Located due north of the ferry port in Adamas, Mandrakia can be reached in 10 minutes. If you are staying in the hilltown town of Plaka Milos, you can reach Mandrakia village Milos in under 9 minutes flat.
Click the Mandrakia Milos map below to access an interactive Google Maps version of Mandrakia.
How to Get to Mandrakia Milos
There are plenty of great options on how to get to Mandrakia Milos.
The best way to visit Mandrakia Milos is via car, ATV, or scooter but I've gone ahead and outlined the taxi too for your convenience.
It's important to note that Mandrakia is not serviced by the Milos bus system.
You can reach Mandrakia from the ferry port in Adamas in 10 minutes.
Car Rental Milos Mandrakia
Milos is graced with smooth and well-divided main roads, making renting a car to get to Mandrakia and the rest of Milos the best option.
If you love the comfort of a full-sized vehicle, then a car rental is for you. The road to Mandrakia, while smooth and wide, does have a steep decline towards the village. So reaching Mandrakia Milos by car will allow for peace of mind.
>>> Check out Car Rentals in Milos for pricing and availability.
Scooter + ATV Rental Milos
If there are only two of you, or you decide to visit Mandrakia Milos solo, then a scooter or ATV rental is a great way to see the island.
We rented from Apollonos Sunshine which I believe was the best ATV rental Milos could possibly offer. The customer service was great and the bikes and helmets were in mint condition.
TIP | Negotiate when renting! And don't pay any higher than €20 in cash for a scooter.
NOTE | Milos can experience the Meltemi winds, a severe dry wind, especially in summer and particularly along the north coast where Mandrakia is located. So when considering renting a scooter, make sure you are comfortable on roads with high crosswinds.
Taxi to Mandrakia Milos
Like most places, a taxi is one of the quickest ways to get from A to B, and Milos is no exception. Especially once you consider that taxi drivers are locals and know all the fastest roads.
If you have cellular service or WiFi and are uncomfortable driving on unknown roads to get to Pollonia village Milos, you can call a Milos taxi at +30 22870-22219.
I'd recommend taking a taxi as a last resort to get yourself to Mandrakia Milos. While taxi drivers on Milos are honest people, they do like to charge a premium to tourists for this service.
TIP | Make sure to ask the taxi driver to turn on his taxi meter before entering the vehicle. This will allow for the best and most fair price.
Best Time to Visit Mandrakia Milos
Due to the village's location on the north coast, and behind an eastern cliff, it is best to visit Mandrakia in the afternoon once the mid-day and afternoon light hits the town. The church and harbour are in perfect light at this time.
Otherwise, you will experience some pretty harsh shadows in the morning that may ruin your picture. This is true of neighbouring Firopotamos, too.
TIP | Cruise into town around 12:30-1 PM, have lunch at Medusa and then explore the town. This would be my ideal itinerary for Mandrakia if I was to visit for a second time without staying.
Where to Stay in Mandrakia Milos
Due to Mandrakia's size, there are only a few options when it comes to staying in this picturesque seaside village.
Most Mandrakia accommodations are of the mid-range to the luxury price point but do offer a more authentic local living experience. Plus, you can't go wrong with the beautiful Aegean harbour views.
If you are staying on the island of Milos for more than a few days, I'd suggest booking a night or two in this adorable little hamlet for some much-needed downtime. Looking for something a bit more full-service? Check out these cool Milos boutique hotels.
READ MORE | Where to Stay in Milos + Area Guide
Luxury Mandrakia Milos Accommodation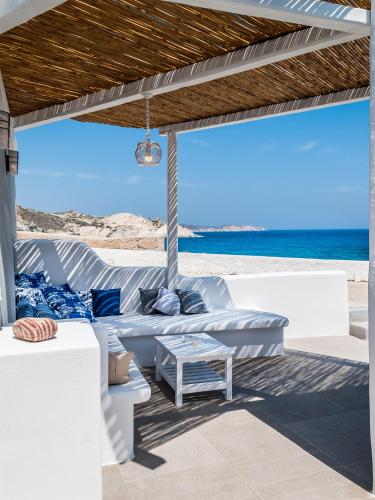 BEST FOR | Holiday Home-rs, Longer-Term Travelers
Talk about a home away from home. This little self-catered gem is located seaside with a spacious sun terrace with unobstructed views of the sea.
With close proximity to everything this adorable village has to offer, you will also find the convenience of a small U-shaped kitchen, living space and roomy bed area.
Guests rave about the above-and-beyond hospitality.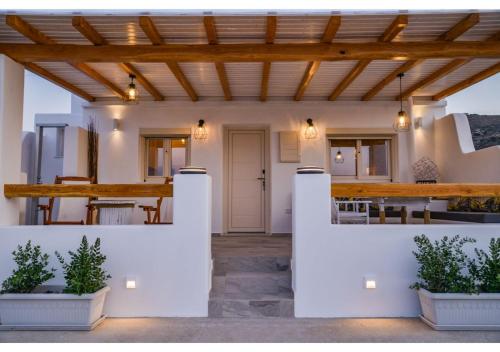 BEST FOR | Couple
A deluxe well-decorated home located a minute walk outside of 'downtown'. The bathroom is something to write home about and the large patio that is set up for dining and lounging is nothing less than spectacular.
The home comes with complimentary parking and breakfast and the convenient use of a second pull-out queen-sized bed.
Mid-Range Mandrakia Milos Accommodation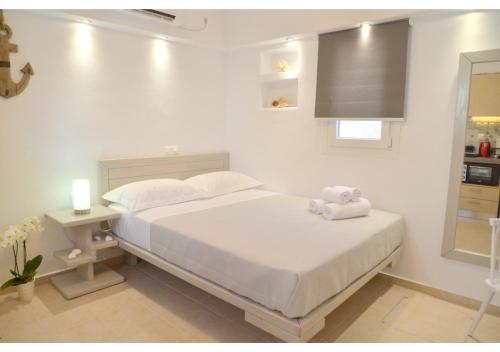 BEST FOR | Couple, Two Friends
This conveniently located apartment, right by the famous Mandrakia church is a great spot to stay if you want to explore the town and have a local living experience.
This Mandrakia accommodation sits on its own with a small Cycladic-designed patio, queen-sized bed and small kitchenette.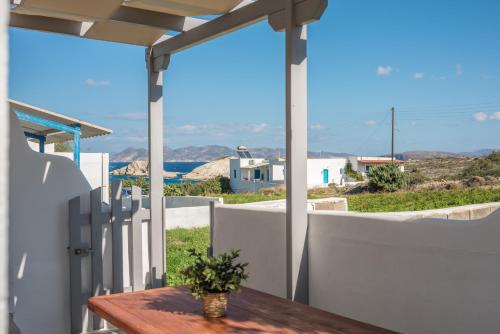 BEST FOR | Friends, Small Family
This open living apartment offers one double bed and 2 single beds for a group of friends or small family. With a small outdoor living area, you will have plenty of space in a convenient, yet quiet, location just a short walk from Mandrakia's centre.
You will also have the use of a kitchen and desk if you plan to take some work with you.
Things to do in Mandrakia
While most of Mandrakia Milos can be explored in less than an hour, it's important to point out a few attractions here that shouldn't be missed.
Explore the Mandrakia Harbour
Adorned with traditional blue painted Sirmata (boathouses), the harbour in Mandrakia is a picture-perfect scene.
Once you've parked your car at the plentiful complimentary parking at the top of the hill, walk to the edge for the best view of the Mandrakia Milos harbour in town. Then, make your way down to the village. At the church, turn left down the stairs and explore the piers to your heart's content.
TIP | Don't forget to explore around the other side towards the ocean for untouched coastline views.
WHERE | Mandrakia Milos Harbour
Visit the Temple of Zoodochos Pigi Mandrakia
Prominently located in the middle of town, the temple of Zoodochos Pigi enjoys 365-degree views of the harbour and the coastline of Milos.
In all of its crisp white and blue Cycladic architecture with a quaint bell tower, the church marks the heart of Mandrakia with everything else fanning out around it.
TIP | Don't forget to step inside the church to see beautiful murals and gold-gilded decor.
WHERE | Zoodochos Pigi Church, Mandrakia Milos
Love exploring churches? Pollonia Milos has two immaculate beauties
Eat at Medusa Milos
Most people flock to Medusa Milos for its unobstructed views of the surrounding coastline, crashing waves and authentic design, but Medusa also offers some of the best Greek food in Milos!
On a calm day when Mandrakia isn't experiencing those pesky Meltemi winds, grab a sea on their charming white-washed patio for a relaxing meal by the sea.
Make sure to try the calamari, sardines and Greek salad for a quintessential Milos experience.
NOTE | It is not uncommon for a queue to form at Medusa due to its popularity. Be prepared to wait a few minutes!
WHERE | Medusa Mandrakia Milos
Spend the Day at Mandrakia Beach Milos
Not technically called Mandrakia Beach, Tourkothalassa (Sea of Turks) Beach is located in the large bay to the west of the small town. Make your way back out of town (heading south) and to the right down a steep path.
This narrow piece of sand is great if you don't have access to a car to reach any of the other amazing Milos beaches, like the moonscape of Sarakiniko Beach.
WHERE | Tourkothalassa Beach, Mandrakia Milos
Mandrakia Nearby Attractions
Mandrakia enjoys proximity to nearby attractions like the infamous lunar landscapes of Sarakiniko Beach, the charming hilltop town of Plaka and the quaint seaside fishing village of Firopotamos Milos and Klima.
Greece Travel Planning Guide
► What is the best way to book my Greece accommodation?
I always use booking.com for all my accommodations worldwide, and Greece is no exception. I stayed in some really epic places on my adventure around the islands.
For more cozy apartment-style accommodation try VRBO (better and safer than Airbnb).
► What are the best day tours in Greece?
Taking a day tour in Greece is a great way to experience the top attractions and learn from a knowledgeable guide.
I highly recommend these Greece tours:
► What is the best ferry website in Greece?
Hands down, Ferry Hopper is the best ferry website in Greece for booking your Greek island connections. This is how I booked all my Cycladic island ferries and can recommend them.
Ferries on Ferry Hopper can connect you from Athens to any island in the Cyclades including Santorini, Mykonos, Naxos, Paros and Milos (plus more!).
You can choose from the fast ferry boats or the more economical slow ferry vessels and can compare prices on the website before booking.
► Should I rent a car in Greece?
If you are flying in and out of Athens to see the top sights and don't plan to leave the city, I don't recommend renting a car. You can easily get around Athens by walking, taking public transportation, like the underground metro or ride-share services like Uber.
If you are heading to the Greek islands, this is where I would highly, highly (did I say highly?), rent a car in Greece. Islands like Milos, Paros and Naxos are best explored by car hire as the roads are more desolate and attractions are further apart.
I always use and recommend Discover Cars for this. Make sure to book early especially if you plan to visit Greece in the summer! Believe me, they sell out fast.
If you are going to plunk down on a beach for a week in the Greek Cyclades, I wouldn't bother with a car rental. You can take a taxi or local transportation on the island to the beach destination of your choice (after your ferry trip from Piraeus, of course).
► What is the best site to buy flights to Greece?
For finding cheap flights to and within Greece, I recommend booking through Skyscanner.
► Can you drink tap water in Greece?
Yes! You can drink straight from the tap in Athens, Greece's capital. Here the water supply is of good quality but may taste of chlorine depending on what area you are staying in.
Some Greek islands will have warnings against drinking tap water, so make sure to bring a self-filtering water bottle with you (LARQ is my fave) instead of resorting to pesky single-use plastic water bottles.
More Greece Travel Guides

10 Days in Greece Itinerary
Where to Stay in Milos
Top Milos Boutique Hotels
Top Milos Beaches
Adamas Milos Travel Guide
Plaka Milos Travel Guide
Pollonia Milos Travel Guide
Best Town to Stay in Paros
Designer Boutique Hotels in Paros
Top Areas to Stay in Naxos
My Fave Naxos Boutique Hotels