Klima Milos: Complete Guide to the Colourful Fishing Village
Colourful two-story boathouses stacked along the crashing waves of the Klima Milos shoreline, ahhhh, what an idyllic picture of the Greek Islands.
This small fisherman village nestled into the hillside of Milos Bay enjoys some of the most epic sunsets on the whole island and staying in one of these Milos Klima boathouses should be on everyone's Greece bucket list.
What's really special about Klima Greece is its quaintness. With only one restaurant, one shop and one church, you can explore the town in an hour giving the rest of the day to relax on Klima Beach, one of the best Milos beaches, or sip Greek beer seaside.
Klima Milos Greece is not only a super Instagrammable spot, it's a quintessential Melian experience and a great place to stay in Milos.
Check out this Greece itinerary for the top places to visit in the Cyclades
*This post may contain affiliate links, which means I may receive a commission, at no extra cost to you, if you make a purchase through a link. Please see my full disclosure for further information.
Milos Quick Guide
Planning a last-minute trip to Milos? Here are the top-rated tours, Milos accommodation and transportation to make your booking a breeze:
Where is Klima Milos?
On the north peninsula of Milos on the inner harbour is the colourful town of Klima Milos. If you are staying in the hilltown town of Plaka Milos, you can reach Klima village Milos in 10 minutes flat.
Click the Klima Milos map below to access an interactive Google Maps version of the village.
A Bit About Klima Milos
The island of Milos as a whole has been inhabited since 7000 BC and was once the centre of commerce and arts in the Cyclades.
Klima itself was built in the 7th century BC by the Dorians (from Sparta) who mingled with the Melian people to create an affluent Klima.
During the Peloponnesian War in 416 BC, Klima fell to the Athenians reducing the overall size of the town to what we see today.
The colourful syrmatas (or boathouses) are all that is left of the once fruitful town. These houses were built along the shoreline for boat storage and living spaces for the local fishermen.
Today, the fishermen no longer use these boathouses, but they remain intact for holiday rentals and local homes.
How to Get to Klima Milos
There are plenty of great options on how to get to Klima Milos.
The best way to visit the quaint seaside village of Klima Milos is via renting a car, ATV, or scooter but I've gone ahead and outlined the bus and taxi options too, just in case rentals aren't on the cards.
You can reach Klima Milos Greece from the ferry port in Adamas Milos in 15 minutes or from Pollonia in 20 minutes.
Car Rental Milos Klima
Milos is graced with smooth and well-divided main roads, making renting a car to get to Klima and the rest of Milos the best option.
If you love the comfort of a full-sized vehicle, then a car rental is for you.
The road to Klima Milos is quite narrow, steep, blind and winding once you've turned off the main road at the town of Trypiti (before the capital of Plaka). So reaching Klima Milos by car will allow for peace of mind. Plus, the town has plenty of complimentary parking.
>>> Check out Car Rentals in Milos for pricing and availability.
Scooter + ATV Rental Milos
If there are only two of you, or you decide to visit Klima Milos solo, then a scooter or ATV rental is a great way to see the island. Albeit, due to the roads leading to Klima Milos, the bulk and stability of an ATV are not necessarily needed.
We rented from Apollonos Sunshine which I believe was the best ATV rental Milos could possibly offer. The customer service was great and the bikes and helmets were in mint condition.
TIP | Negotiate when renting! And don't pay any higher than €20 in cash for a scooter.
Taxi to Klima Milos
Like most places, a taxi is one of the quickest ways to get from A to B, and Milos is no exception. Especially once you consider that taxi drivers are locals and know all the fastest roads.
If you have cellular service or WiFi and are uncomfortable driving on unknown roads to get to Klima village Milos, you can call a Milos taxi at +30 22870-22219.
TIP | Make sure to ask the taxi driver to turn on his taxi meter before entering the vehicle. This will allow for the best and most fair price.
Bus to Klima Milos Greece
While the well-established Milos bus system doesn't serve the seaside village of Klima Milos, it does get you as close as Trypiti. From there you can jump in a taxi and make the rest of the easy 8-minute journey, or if you have a light backpack, you can walk down the hill in about 20 minutes.
To get yourself by bus to Trypiti and then onward to Klima Milos from anywhere on the island, and especially from the ferry port town of Adamas, you can check out the Milos Bus Schedule (subject to change) for the best route.
NOTE | The Adamas to Trypiti route runs almost every hour in high season starting at 7:30 AM and stopping at half-past midnight.
Best Time to Visit Klima Milos
for a Day Trip
Due to its location on the southwest coast of the Milos inner harbour, the best time to visit Klima Milos is in the afternoon and evening for sunset.
Where to Stay in Klima Milos
Klima hotel options are all located along the shoreline in the picturesque boathouses. Most Klima Milos apartments and studios are in the mid-range to luxury price point due to the novelty of the location. The apartments here are on par with some of the best Milos boutique hotels.
READ MORE | Ultimate Guide on Where to Stay in Milos
Luxury Klima Hotel Options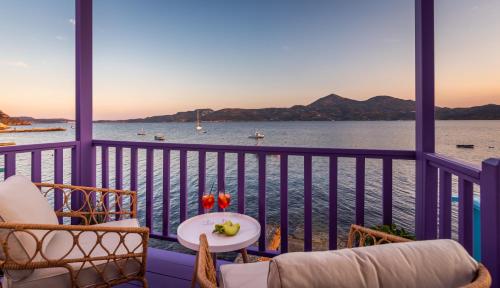 BEST FOR | Couples, Solo Traveler
Located on the right-hand side of Klima amongst the most colourful boathouses is The Colourful Land Milos. This studio features a cozy second-floor balcony with two chairs for watching the sunset, a small kitchenette with a burner, fridge and sink, a living area, and a queen-sized bed.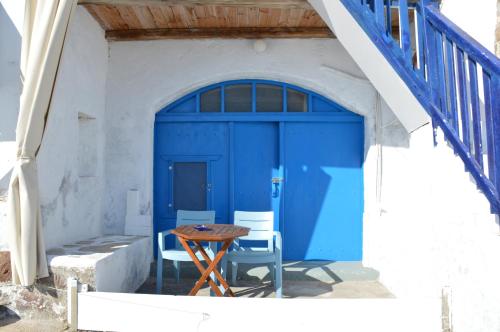 BEST FOR | Small Family, Friends
Walk out of your colourful 2 story apartment right onto the picturesque shoreline of Klima. On the main floor, you have a patio, kitchenette and double bed. Walk up the cute ladder, and you have an open room with a double bed, as well.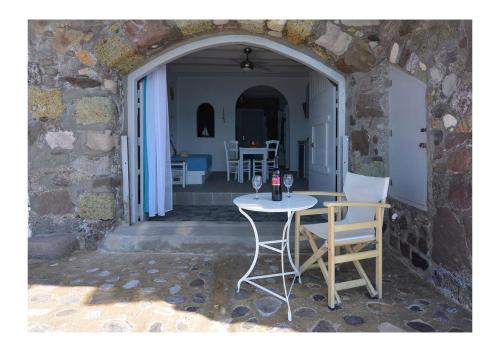 BEST FOR | Solo Traveler, Couple
This walk-in studio, located right in the Instagrammable part of Klima features a separate kitchen and dining area, and a comfy queen-sized bedroom with convenient shelving and desk. The ground-floor apartment also boasts beautiful arches in this ode to Cycladic design.
Mid-Range Klima Hotel Options
BEST FOR | Friends
This all-in-one home in the picturesque seaside town of Klima is a home away from home. Grab your friends and stay in this apartment featuring a condensed kitchen, dining and couch area, outdoor balcony with 2 chairs and a private room with one double and one single bed.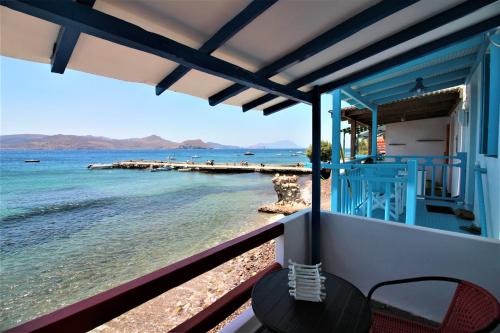 BEST FOR | Solo Traveler, Long Term Travelers, Couple
NOSTROMO is a second-floor studio located on the far end of the quieter left-hand side of Klima's shoreline. Great for people who want to stay a bit longer or enjoy a bit of peace.
The apartment is set up with a basic kitchen, table and fridge, with a scenic patio for viewing the sunset. In the back of the studio are a king-sized bed and a small bathroom.
Budget Klima Hotel Options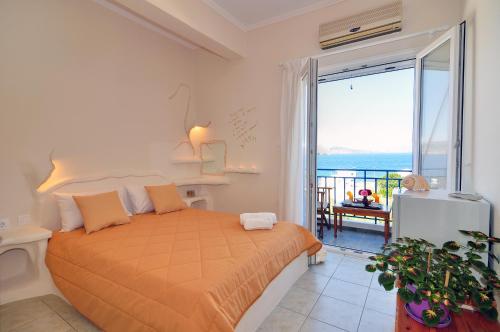 BEST FOR | Friends, Economy Travelers
The only budget option that Klima Milos has is located a 5-minute walk up the hill. But, don't be fooled, just because it's not located along the shoreline in the colourful boathouses doesn't mean it doesn't enjoy some incredible views.
Room arrangements come in triple standard rooms and junior suites that sleep three. The junior suite comes with kitchen amenities while both room types come with a balcony and shower.
Things to Do in Klima Milos
At first, Klima doesn't seem to offer anything but idyllic boathouses, but once you start exploring, there are a few things to do in Klima Milos worth visiting.
Explore the Picturesque Boathouses
Of course, you can't talk about this Milos fishing village without mentioning the instagrammable and infamous colourful boathouses (or Syrmatas) that paint the shoreline. The row of homes along the right-hand side (facing the water) is the most popular.
TIP | When visiting Greece Klima in October, there were a few crashing waves along the shoreline when trying to explore, so come prepared with proper, water-resistant shoes. Plus, the walkway can get a bit slimy with moss.
NOTE | Most of the boathouses in Klima Milos are homes or holiday rentals, so please be aware that people are living in them. Be respectful!
Love charming seaside villages? Check out Mandrakia Milos and Firopotamos Milos
Shop at Pliatsiko Jewelry Store
Located about halfway down the shoreline to the right is the quirky Pliatsiko jewelry store housed in one of the colourful syrmatas (boathouses).
All of the jewelry and accessories in the store are handmade and of great quality. Perfect for bringing home to family and friends or keeping all to yourself.
WHERE | Pliatsiko Jewelry Store, Klima Milos
Dine at Astakas Restaurant
The only restaurant Klima Milos has on offer is the beautiful Astakas restaurant. Perfect outdoor seating and unobstructed views of the sea and sunset are featured here. Grab yourself a white painted table along the water and enjoy the golden light of Greece.
WHERE | Astakas Restaurant, Klima Milos
Watch Sunset at Klima Beach Milos
The beach in this picturesque fishing village is on my list of best Milos beaches for its proximity to the iconic Klima Milos sunset. Bring a blanket, and enjoy the sky as it gets painted in pinks, oranges and reds.
TIP | The best way to experience Klima Beach is with a beer in hand. Snatch one from Astakas restaurant to go.
WHERE | Klima Beach Milos
Visit Agios Dimitrios Church
Right in the centre of Klima is the Agios Dimitrios Church. This small white and blue church has a cute little electric blue interior with gold gilded decor and a few hand-painted wall hangings. It's worth a pop-in before heading to the iconic boathouses.
WHERE | Agios Dimitrios Church, Klima Milos
View Klima from the Water
One of the best ways to see Klima is from the water. This full-day Milos boat tour cruises past Klima Milos on its way back from Kleftiko Beach and stops in for a swim and rest at the picturesque fishing village.
SEE TOUR | Kleftiko Full-Day Sailing Cruise
Nearby Attractions from Klima Milos
Klima is graced with a central location on the northern peninsula of Milos.
Within a 10 minute drive, you can arrive at the idyllic hilltop town of Plaka Milos, or the iconic moonscapes of Sarakiniko Beach or to Mandrakia Milos, another colourful fishing village on the island.
Greece Travel Planning Guide
► What is the best way to book my Greece accommodation?
I always use booking.com for all my accommodations worldwide, and Greece is no exception. I stayed in some really epic places on my adventure around the islands.
For more cozy apartment-style accommodation try VRBO (better and safer than Airbnb).
► What are the best day tours in Greece?
Taking a day tour in Greece is a great way to experience the top attractions and learn from a knowledgeable guide.
I highly recommend these Greece tours:
► What is the best ferry website in Greece?
Hands down, Ferry Hopper is the best ferry website in Greece for booking your Greek island connections. This is how I booked all my Cycladic island ferries and can recommend them.
Ferries on Ferry Hopper can connect you from Athens to any island in the Cyclades including Santorini, Mykonos, Naxos, Paros and Milos (plus more!).
You can choose from the fast ferry boats or the more economical slow ferry vessels and can compare prices on the website before booking.
► Should I rent a car in Greece?
If you are flying in and out of Athens to see the top sights and don't plan to leave the city, I don't recommend renting a car. You can easily get around Athens by walking, taking public transportation, like the underground metro or ride-share services like Uber.
If you are heading to the Greek islands, this is where I would highly, highly (did I say highly?), rent a car in Greece. Islands like Milos, Paros and Naxos are best explored by car hire as the roads are more desolate and attractions are further apart.
I always use and recommend Discover Cars for this. Make sure to book early especially if you plan to visit Greece in the summer! Believe me, they sell out fast.
If you are going to plunk down on a beach for a week in the Greek Cyclades, I wouldn't bother with a car rental. You can take a taxi or local transportation on the island to the beach destination of your choice (after your ferry trip from Piraeus, of course).
► What is the best site to buy flights to Greece?
For finding cheap flights to and within Greece, I recommend booking through Skyscanner.
► Can you drink tap water in Greece?
Yes! You can drink straight from the tap in Athens, Greece's capital. Here the water supply is of good quality but may taste of chlorine depending on what area you are staying in.
Some Greek islands will have warnings against drinking tap water, so make sure to bring a self-filtering water bottle with you (LARQ is my fave) instead of resorting to pesky single-use plastic water bottles.
More Greece Travel Guides

10 Days in Greece Itinerary
Where to Stay in Milos
Top Milos Boutique Hotels
Top Milos Beaches
Adamas Milos Travel Guide
Plaka Milos Travel Guide
Pollonia Milos Travel Guide
Best Town to Stay in Paros
Designer Boutique Hotels in Paros
Top Areas to Stay in Naxos
My Fave Naxos Boutique Hotels