Broken Beach Nusa Penida – The Ultimate Guide
Nusa Penida has some really cool places to visit, and Broken Beach is no exception! The arched rock formation sits on the coastline of Nusa Penida as a natural gate between Manta Bay and the pool surrounded by the cliff's edge.
The water is a rich blue-green colour, and clear enough to see coral growth on the bottom of the inlet. Through the arch, you can see the western coast of Nusa Penida and quite possibly a few manta rays, too!
READ MORE | Get inspired by these 21 top things to do in Nusa Penida
*This post may contain affiliate links, which means I may receive a commission, at no extra cost to you, if you make a purchase through a link. Please see my full disclosure for further information.
Visitor's Guide to Pasih Uug – Broken Beach Nusa Penida
Where is Broken Beach Nusa Penida?
Broken Beach is a natural landmark located on the island of Nusa Penida, an hour's fast boat ferry from Southeast mainland Bali. The location can be found on the island's Northwest tip near Angel's Billabong. The main road leading to the attraction is paved, but the last 100 metres is dirt and uneven ground. Be careful!
How to Get to Broken Beach Nusa Penida Bali
Nusa Penida transport. A scooter is by far the best way of getting around Nusa Penida. It can take up to an hour to get across the island. In recent years, Nusa Penida has made an effort to pave the roads all over the island, but many of the attractions will still have rougher patches.
Make sure to ask for a helmet with your rental as a precaution, better to be safe than sorry!
The cost of a scooter rental, including a full tank of gas, will be 70,000 IDR a day (approximately $4.85 USD) from any vendor at the ToyaPakeh Harbour.
Of course, there is always the option to book a private car charter if the idea of driving around a scooter is not your idea of fun.
BOOK | Nusa Penida Private Car Charter
Where to Park at Broken Bay Nusa Penida
Once you've turned left off the main paved road and have reached the dirt roadway, take your first left into a parking lot where you can keep your scooter during your visit. There will be a few friendly locals here selling coconuts or simple refreshments, but they do not collect a parking fee from you.
Head toward the coastline from here down the path through the brush.
Broken Beach Nusa Penida Entrance Fee
If you park where I have suggested, there is no entrance fee to Broken Beach. But, at busier times or different parking lots there may be a 5,000 IDR (around $0.35 USD) parking fee, so make sure to bring cash in small denominations.
Broken Beach Nusa Penida Opening Hours
The area surrounding Broken Beach is open 24 hours a day, and 7 days a week. Although I wouldn't suggest coming here after dark, as the coastline is not fenced and you could lose your footing.
What to Expect at Broken Beach Nusa Penida
Even though the landmark is called Broken Beach, there really is no accessible beach here. But, that's not why you should come to Broken Beach anyway, it's the stunning beauty of the natural landmark and the coastline beyond which is the true draw.
You will make your way from the dirt parking lot to the pathway leading around Broken Beach (Pasih Uug).
The pathway encompasses the entire circumference of the inlet that features an arched landmass that allows water to come in from Manta Bay. If you walk to the far side over the arch, you can get a great view of the coastline of western Nusa Penida, and you may even spot a few manta rays in the water! The loop will take you less than 10 minutes to complete and is a flat-level pathway the entire way around. Broken Beach is suitable for everyone.
If you are coming here mainly for pictures, there are many places along the attraction to take photos. Please be aware that there is no fence, so be cautious when sitting or standing near the edge.
There are many warungs (Indonesian cafes) that sit on the pathway to the north side of the attraction, so local food and refreshment aren't hard to come by. Broken Beach can get extremely hot, especially during the afternoon, so do bring along a reusable bottle full of water, to quench yourself during your visit.
Best Time to Visit Broken Beach Nusa
Most Nusa Penida day tours from Bali reach the harbour around 9 AM and Broken Beach by 10 AM. If you are the type of person who would prefer not to be standing in a crowd while admiring the beautiful view, you can visit Broken Beach before 10 AM or after 4 PM for no crowds, as the tours have left the island.
For the best photos, between 12-2 PM is the best time to visit Broken Beach, as the sun is high in the sky and there are no harsh shadows.
Also, something to consider if you want to visit Angel's Billabong in conjunction with Broken Beach is the tide schedule. Angel's Billabong is best visited at low tide, so check a site like Magic Seaweed to see when the best time to visit Broken Beach is.
Exploring the west side of the island? Read this guide on Tembeling Nusa Penida
Broken Beach Bali Photography Tips
There are several spots at Broken Beach to get the perfect shot of the arched rock formation and the coastline beyond. If you are visiting to add another impressive photo to your Instagram feed, sit or stand near the edge of the inlet and have your photographer stand behind you and take a picture of you in the foreground, with the arch in the background.
For something different, have your photographer stay on the populated side of the inlet, and walk to the pathway directly above the arch. Your photographer can use a zoom lens to capture you walking or posing above the arch.
Here, it's appropriate to use the common 24-70mm 2.8 adjustable lens. If you'd like to capture more of the circle, you may want to opt for a wide angle lens instead.
Can you Swim at Broken Beach Penida?
No, you cannot swim at Broken Beach, as there is no access to the beach from the pathway above. The closest place to get in the water would be Angel's Billabong next door, as it is a tide pool right on the ocean's edge.
Places Near Broken Beach
You can't leave Broken Beach without visiting Angel's Billabong, a natural tide pool right on the edge of the ocean. The attraction is only a 5-minute walk from Broken Beach past the warungs on the right and through to the other side of the rocks.
Also located on the west coast of Nusa Penida is the famous Kelingking Beach or otherwise known as 'T-rex' Beach for its dinosaur-shaped rock formation. If you love snorkelling, Crystal Beach will be the perfect spot for you.
21 of the top things to do in Nusa Penida
Things to Bring to Broken Beach Nusa Penida
Besides a hat and sunscreen to beat the heat, I would suggest bringing the following things along with you to make the most of your visit to Broken Beach Nusa Penida:
DAY PACK | I travel with my WANDRD backpack, it comes with a compartment for your camera and tons of space for all your other goodies
MIRRORLESS CAMERA | If you want to invest in something other than your camera phone (the newest phones have great cameras by the way), I purchased the Sony A7iii with a Sigma 24-70mm 2.8 lens. Couldn't be happier.
WATERPROOF SHOES | I went with a pair of trekking sandals from Teva, they are pretty multifunctional in my opinion. But a classic water shoe does the trick too.
REUSABLE WATER BOTTLE | Let's help save our planet from plastic pollution and carry around a reusable water bottle instead. I love my Swell water bottle as it stays cold for 24 hours and is lightweight. A LARQ water bottle would also fit the bill and has water purifying technology built right in.
Day Trip from Bali to Nusa Penida
If you are looking for a fun-packed day that will have you from mainland Bali to Nusa Penida and back in one day, this day tour is the one for you. This Nusa Penida day trip will take you to Nusa Penida places to visit like Kelingking 'T-Rex' Beach, Broken Beach, Angel's Billabong, and even Crystal Bay for snorkelling. The tour will include a hotel transfer to the harbour, a fast boat to and from Nusa Penida island, and a car charter. You can choose up to five people for this Nusa Penida tour.
BOOK | Nusa Penida Full Day Trip from Bali
Nusa Penida is full of Instagrammable spots, and if you are wanting to get the best photos of each spot, this full day tour may be for you. A group charter will transport you to Nusa Penida must see places like Kelingking 'T-Rex' Beach, Broken Beach, and Angel's Billabong, and more. The tour even comes with a personal drone pilot.
BOOK | Nusa Penida Tour from Bali
Where to stay in Nusa Penida
The island has some really great unique Nusa Penida hotels. I have taken the time to recommend the top ones I believe you will love! There is something for everyone on this list and I highly suggest staying in Nusa Penida to see all the island has to offer.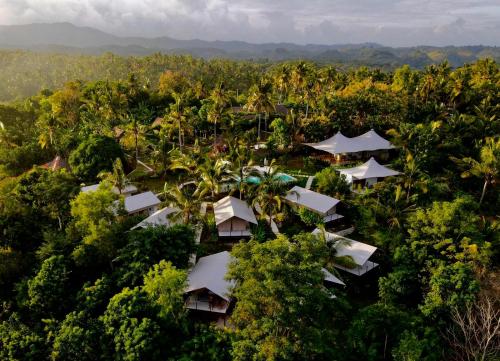 Set on stilts among the jungle of Nusa Penida, is Autentik Penida Glamping. The luxury tents located a 5-minute drive inland from Crystal Bay in Northwest Nusa Penida is one of the most unique stays on the island. The designer camp comes with a beautiful shared pool and well-equipped tents with balconies to enjoy the view.
The Mesare Resort consists of luxury cabins nestled in the central interior of Nusa Penida. Well located if you plan to explore the entire island, as everything is within a 30-minute drive. This Nusa Penida hotel features attractive wicker furniture, outdoor showers, a shared pool, restaurant, and yoga shala.
Semabu Hills Resort will give you all the creature comforts of a classic western hotel chain. The resort features one of the most epic infinity pools in Nusa Penida with sweeping views of the jungle and ocean. This Nusa Penida hotel is located close to the ToyaPakeh Harbour for easy commuting to and from your fast boat ferry.
Located on the Northeast coastline of Nusa Penida, the La Roja Bungalows are budget-friendly. The cute individual bow-roofed houses surround a shared pool and are a great place to make friends and relax. The Northeast area of Nusa Penida also has the biggest concentration of western and trendy cafes to explore like Penida Colada Beach Bar, one of my favourites.
CHECK PRICES + AVAILABILITY
More Travel Inspiration for Nusa Penida, Bali
21 TOP THINGS TO DO IN NUSA PENIDA | This island is full of amazing things to do. Epic beaches, a famous treehouse, crystal clear natural pools, manta ray snorkeling and more.
TEMBELING NUSA PENIDA | Crystal clear natural pools, a secret cave, white sand beaches, and nature galore, Tembeling Nusa Penida is one of the best things to do in Nusa Penida
NUSA PENIDA TREEHOUSE | The famous Rumah Pohon treehouse perches on the coastline cliffs of Nusa Penida
DIAMOND BEACH NUSA PENIDA | One of Nusa Penida's best beaches, Diamond Beach brings white sand, turquoise waters, mighty cliffs, and rock formations. Adventure abounds.
ANGEL'S BILLABONG NUSA PENIDA | A scenic natural infinity pool on the west coast of Nusa Penida with tidal pool, volcanic rock, and views of Manta Bay
BROKEN BEACH NUSA PENIDA | A spectacular arched rock formation as a gateway between Manta Bay and a spectacular turquoise inlet on the edge of the western Nusa Penida coastline
THE MOST INSTAGRAMMABLE PLACES IN BALI | My top recommendations on where to get the perfect Instagram photo to wow your audience
Click Image Below to Pin for Later!