Adamas Milos: Complete Guide to the Milos Port Town
Adamas Milos, a quaint seaside port town is centrally located in the calm waters of the island's scenic inlet. Also called Adamantas Greece, this small village acts as the main ferry terminal for all of Milos.
Don't be deceived though, this charming white-washed gem still obtains its Greek Islands Milos appeal.
What makes Adamas Greece the perfect place to stay in Milos is its proximity to all of the great attractions on the island. Base yourself in one of Milos Adamas's well-designed apartments, rent yourself a car and go explore to your heart's content.
No matter what, you will always find things to do and scrumptious places to eat in Adamas.
The Best Greece Itinerary for Cyclades Island Hopping
*This post may contain affiliate links, which means I may receive a commission, at no extra cost to you, if you make a purchase through a link. Please see my full disclosure for further information.
Milos Quick Guide
Planning a last-minute trip to Milos? Here are the top-rated tours, Milos accommodation and transportation to make your booking a breeze:
Where is Adamas Milos
The island of Milos has a unique horseshoe-shaped configuration in the Cycladic island group of Greece. As the main ferry port town on the interior of the north side of the horseshoe, Adamas enjoys quiet sea waters and pretty harbour views.
Click the Adamas Milos map below to access an interactive Google Maps version of Adamantas.
How to Get to Adamantas Milos
Milos is located in the Cycladic group of Islands in the Aegean sea and is easily accessed by plane or ferry. Adamantas Greece, as the main ferry port for the entire island of Milos, is convenient to get to, especially by ferry boat.
NOTE | Milos and the Cycladic islands, in general, can experience some very strong winds, so ferry crossings and plane routes can be cancelled last minute. Make sure to schedule in a bit of buffer to your Greek Island holidays just in case!
By Ferry
The fast ferry is one of the most common ways to island-hop in the Cyclades. Many companies like SeaJets will get you from island to island the fastest, while Blue Star Ferries will offer a larger range of prices and durations.
The Adamas port Milos is centrally located in the town of Adamas and is walkable from all neighbourhoods making arriving at your accommodation a breeze.
You can check prices and schedules via Ferry Hopper, I used this website to book all of my Greek island ferries (including Adamas Milos) while on my 6-week trip.
>>>> Check Ferry Tickets to Milos
Ferry Athens to Milos
The best Athens port to depart from to get to Milos is Piraeus. This is your most direct and shortest route to Milos from mainland Greece. The journey will take roughly 3.5 hours. Most ferry Athens Milos provide food and internet amenities for your convenience.
Ferries from Santorini to Milos
As a common route in the Cyclades, ferries Santorini to Milos are plentiful. You will always find a ton of options for whatever budget and time frame. Durations range from 2 hours to 7 hours.
Ferry Paros Milos
You can make the journey from Paros to Milos by ferry in just over 1.5 hours making it a great day trip to Milos if you are limited on time. Fast ferries and slower ferries will all sail at least once a day during the high season.
Ferry Sifnos to Milos Adamas
About 30 minutes from Milos is the hidden gem of Sifnos. Visiting this small island as a day trip of Milos could be a great option if you have a week or more on the island.
By Plane
The island boasts its own airport in Milos, which makes the island convenient to get to from nearby Cycladic islands and even larger mainland cities like Athens.
The airport Milos offers is small but receives many direct flights. You can catch a taxi at the airport and be in the centre of Adamas Milos in under a 10-minute drive.
I use Skyscanner to book short-haul flights all over the world.
By Air from Athens to Milos
Airlines like Aegean fly direct to Milos every day and in high season, multiple times a day. The flight takes an easy 40 minutes. Due to Athens's position in the world as an international hub, you can transfer through Athens to Milos from almost anywhere in the world.
Of course, like anywhere, once tourism slows down you will see a major decrease in air service to Milos from most other islands and cities. This usually happens between November – April.
Flights from Santorini to Milos
Most trips to the Cyclades include a stop in the picture-perfect Santorini. So, flights from Santorini to Milos are common.
During the summer months of May-October, Aegean airlines offer this route daily. The flight duration is 40 minutes direct.
How to Get Around Adamas Milos
How do I get around Adamas Milos? Fortunately, the town is located at the ferry port and is small enough in size to walk to most places. But, Adamas is mainly a central hub in order to make day trips around the island. So renting a car, ATV or scooter is definitely recommended.
In this guide on how to get around Milos, Island Adamantas Greece in particular, I've outlined all your options to start exploring Adamas and beyond, from renting a car, ATV or scooter to the smooth-running bus system, to taxis and even organized day tours by car or boat.
NOTE | Due to the nature of some of the roads near beaches like Tsigrado and Fyriplaka, I wouldn't rely on walking or cycling to get to all of the beautiful Milos destinations.
Organized Day Trip from Adamas
Taking an organized day trip with an expert local guide around Milos is great for people who just don't like to plan or want to get the most out of their Milos experience in a short amount of time. Plus you have the added benefit of a more robust history and cultural insight into life on Milos.
Luckily, most organized day trips and boat tours depart out of Adamas Milos.
Milos has a lot to offer in regards to culture and archeology, besides the beautiful beaches like Sarakiniko Milos is famous for.
This epic 4-hour organized day trip will have you visiting highlights and hidden gems like Plaka Milos the artsy capital, the ancient town of Phykakopi and the ancient theatre of Milos. Don't forget the idyllic seaside village of Klima.
Along the way, you still stop to see how local dairy and wine products are made (which are incredibly yummy!).
BOOK | Milos Archaeology + Culture Tour
Car Rental Milos Adamas
Car rental is by far the best way to get around Milos. With plenty to see and a ton of complimentary parking wherever you go, renting a car in Adamas Milos is just the ticket for an enjoyable, fun-filled holiday.
Plus, you can't go wrong with the comfort and convenience of a full-sized vehicle to reach all of the top-notch Milos destinations beyond Adamantas Greece.
Driving in Milos is quite a pleasant experience. Smooth, well divided and easily navigable, the main Milos roads are really great.
It's important to note that once you get closer to Milos beaches like Firiplaka Beach and Tsigrado Beach the road can get rougher, and this is why a car hire Milos is super handy.
Check out Car Rentals in Milos for pricing and availability.
ATV Rental Milos Adamantas
If you are up for something a little more adventurous and have a properly classified license you can try renting an ATV (4-wheeler) or scooter.
We rented from Apollonos Sunshine which I believe was the best ATV rental Milos could possibly have. The bikes and helmets were in mint condition, and the customer service was great. It was great for getting to towns like Mandrakia and Firopotamos, too.
TIP | Negotiate the price! And don't pay more than €20 paid in cash per day.
NOTE | The island of Milos experiences severe dry winds called Meltemi winds. They are especially present in summer but can blow all year long. If you are considering a scooter rental, make sure you are comfortable on roads with high crosswinds.
Bus Milos Adamas
If renting a vehicle isn't on the cards, Milos, fortunately, has a well-established and smooth-running bus system. As the main hub on the island, Adamas Milos is frequently serviced by bus and can take you almost anywhere on the island.
You can check out the Milos Bus Schedule for the best route.
Taxi Around Milos Adamas
Taxis are plentiful in Milos, and especially in Adamantas Greece. The Milos taxi can be reached at +30 22870-22219 if you have access to data or WiFi.
I'd recommend taking a taxi as a last resort to get anywhere on the island. The taxi drivers, while honest, do like to charge a premium to tourists for this service. Plus, in Adamas, you can walk everywhere.
Where to Stay in Milos Adamas
In my opinion, Adamas Milos is one of the best towns on the island to stay. I have visited most places in Milos and Adamas stands out to me because of its convenience, location and amenities. Most Adamas hotel Milos options come in the form of a well-decored apartment or studio suite.
Airbnb Milos accommodation in Adamas is plentiful, and you won't have an issue finding one that suits your budget and needs. I stayed in an Air BnB Milos style apartment while in Adamas Milos and I have zero regrets. The Milos boutique hotels in Adamas are also pretty stellar.
READ MORE | Best Area to Stay in Milos
Luxury Adamas Milos Hotels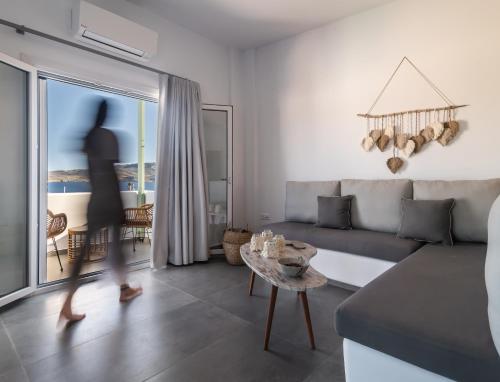 BEST FOR | Friends, Small Family
Eclipse Tales is an upscale Hotel apartment located in the elevated old town area, just a 2-minute walk from the Adamas Milos ferry port.
Welcome to your new modern home in Milos! This apartment is fully equipped with a full-sized kitchen, dining room, a large L-shaped lounging area, a patio with a view of the bay.
This apartment-style hotel Adamas Milos comes with two spacious rooms with queen-sized beds.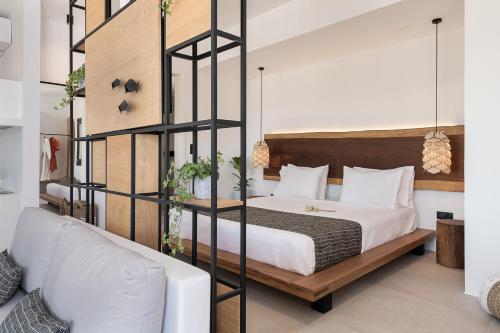 BEST FOR | Design Lovers, Friends, Couple
Athina Milos Suites is one of the best apartment-style Milos hotels Adamas has to offer.
Boasting light and bright, well-decorated suites, with one-bedroom deluxe apartments, this Airbnb Milos Adamas style accommodation is very conveniently located off the main road. Athina still enjoys great proximity to all of the best restaurants in Adamas.
With textured white surfaces, creamy white walls and black accents, it's truly one of the most beautiful apartments in Adamas, and for a great price!
Mid-Range Milos Adamas Hotels
BEST FOR | Design Lovers, Long Term Travelers, Couples
Stay in your own comfy modern castle-like studio in Adamas! Due to MavroKastro's location just outside of Adamas Milos, this Adamas hotel Milos is ideal for longer stays or people who like a small stroll into town.
Featuring complete suites with a beautiful queen size bed, balcony, and spacious bathroom. If you book the stone-made double room with a terrace, you get your own marble bathtub!
Views from the balconies are beautiful and the area is quiet. You can walk to Papikinou Beach within minutes.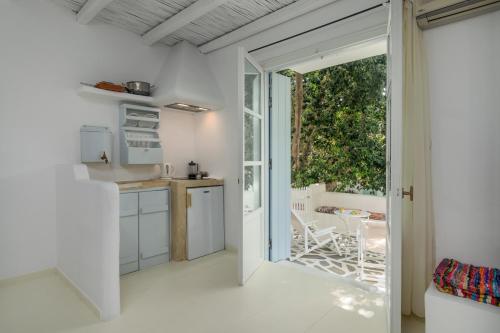 BEST FOR | Friends, Couples, Small Families
Located a 10-minute walk inland from the Adamas Milos ferry port is the oasis-like villa complex, Thalassitra Village Hotel. Secluded and quiet, yet still within walking distance of all the Adamas amenities and restaurants, this is ideal for couples and small families.
This Milo studios Adamas option is comprised of mini traditional suites to luxurious homes with private jacuzzis.
There is something for everyone here, and each apartment has access to the enchanting outdoor courtyard for enjoying a book or anything else you can imagine.
Budget Accommodation Milos Adamas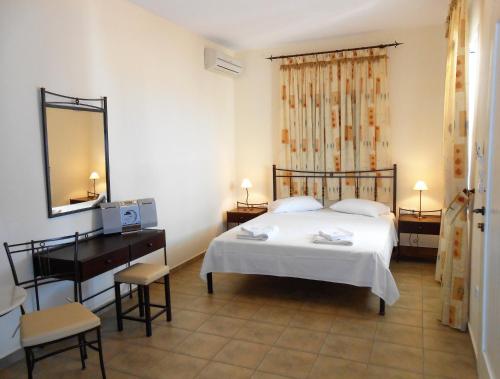 BEST FOR | Backpackers, Solo Traveller
Livanios Studios is a comfortable budget accommodation in Adamantas Greece that enjoys a very central location on the main road. Steps away from everything you could possibly need, Livanios Adamas Studio has great hosts and unique decor.
Things to Do in Adamas Milos
Adamantas Greece is not only a starting off point for visiting other attractions in Milos, but it also has plenty to do, too! From museums to golden beaches to architecture, discover all that Adamas Milos has to offer.
1. Papikinou Beach
Papikinou Beach made my list of the best Milos beaches due to its convenient location, quiet amenities, and beautiful sand. As my favourite Adamas beach, Papikinou Beach is easy to get to, too. Just head a 15-minute walk southeast along the coastal road and you will arrive at this serene oasis.
Papikinou Beach is made for people who want a relaxing day. Sun loungers and umbrellas are available for rent here from May to October, and you can even lay your blanket under a tree if rentals aren't your thing.
Like most beaches in Milos, Papikinou enjoys powdery golden sands and clear azure water for your swimming pleasure.
WHERE | Papikinou Beach, Adamas
2. Lagada Beach
A hidden gem located a 2-minute walk from Adamas Milos ferry port is Lagada Beach. This beach is best for people who want to go out on an excursion. Rent a kayak and head along the coast for some epic views.
Or, if you don't want to walk the 15 minutes to Papikinou, you can lay out your blanket at this sandy Milos beach.
TIP | If you have time, head along the path past the beach heading west. Just a few minutes up the easy trail you will be rewarded with scenic views of the entire town of Adamas Milos. If you continue on, you can visit the iconic Adamas lighthouse.
WHERE | Lagada Beach Adamantas
3. Boat Tours Milos (departing Adamas)
Because of Adamas Milos' proximity to the ferry port and pier of Milos, many, if not all boat tours depart from here.
To visit the picturesque white caves of Kleftiko (only accessed by boat), take this full-day boat tour Milos. You will be provided with a homemade Greek lunch and use of the crew's underwater cameras to keep memories of your epic day!
4. Explore the Island by Car
Milos is the ideal island for exploring by car. If you base yourself in Adamas, you will enjoy a very convenient and central location for day trips.
You can visit iconic Milos sights like the lunar landscape of Sarakiniko Beach, the quintessential fishing village of Mandrakia, and the hilltop town of Plaka, all within 15 minutes.
To reach beaches like Firiplaka and Tsigrado, a car comes into handy due to the road conditions experienced in that area.
Especially in the height of summer, I wouldn't rely on renting a car when you hit the ground in Milos, so make sure you have one waiting for you when you get there.
>>> See Milos Car Rentals for pricing and availability.
5. Saint Haralambos Adamantas Holy Orthodox Church
The Saint Haralambos Adamantas Holy Orthodox Church is situated in the centre of old town Adamas, prominent on the hill. The bell tower is a picturesque piece of architecture if you are a photographer like me.
The beautiful classic blue and white Cycladic design is definitely on display here.
WHERE | Saint Haralambos Adamantas Holy Orthodox Church, Adamas, Milos
Explore the churches of Plaka Milos
6. Bomb Shelter of Adamas
In WWII and the German occupation of Milos, the people of the island built a bomb shelter and maze of underground tunnels to keep their families safe. Located halfway up the hill to the old town, you can visit the present art gallery, repurposed from the old tunnel network.
NOTE | The bomb shelter in Adamas was closed when I visited in October 2021, so be sure to check if it's open before visiting.
7. Milos Mining Museum
For many years mining was the top source of income for the Melian people. As the main focal point to the financial and cultural success of Milos, mining is a huge part of the island.
The Milos Mining Museum offers exhibitions and special guided tours to mining facilities and areas of geological interest.
If this really interests you, pop by the museum any time to arrange a tour.
WHERE | Milos Mining Museum
8. Enjoy a Meal with a Harbour View
Adamas's location on the inner harbour of Milos grants the town fabulous views and long stretches of coastal property for quaint restaurants and shops.
Head southeast along the road to Papikinou and you will find Adamas Milos highlights like Nostos seafood experience and Elia Mama's Food.
Grab yourself a table overlooking the harbour and enjoy your freshly made meal in scenic and romantic surroundings.
TIP | The seaside town of Pollonia also has a few amazing seafood restaurants
9. Artemis Bakery
Smack dab in the middle of town, at the main junction of Adamas you will find the buzzing Artemis Bakery. The owners here pride themselves on offering local authentic greek dessert and bakery goods.
Try the Spanakopita, a spinach and cheese savoury pie, and my fave, the saucy chocolate sheet cake.
WHERE | Artemis Bakery, Adamas Milos
10. Take a Stroll on the Boardwalk
Really what Adamas is all about is the proximity to the sea. So, take a stroll down the main boardwalk, past old town and around the corner to Lagada Beach.
Pop into any of the restaurants or cafes along the way for some people-watching and just enjoy, you are in Greece after all!
I particularly loved Milors for a big Greek breakfast and coffee.
Best Adamas Milos Restaurants
As the hub of activity for the island of Milos, you can find many best restaurants Milos has to offer. Most Milos Adamas restaurants offer authentic greek cuisine, whether it's traditional or modern, you choose! Here are a few of my favourite Adamas restaurants:
MILORS | Large Greek breakfast combinations including orange juice and coffee
GARDEN JUICE BAR | The best healthy juices and smoothies in Adamas
NOSTOS | Upscale seafood experience directly on the harbour with beautiful views
O! HAMOS! TAVERN | Authentic and traditional greek cuisine
GYROS OF MILOS | Best gyros in Adamas Milos with vegetarian falafel option
Greece Travel Planning Guide
► What is the best way to book my Greece accommodation?
I always use booking.com for all my accommodations worldwide, and Greece is no exception. I stayed in some really epic places on my adventure around the islands.
For more cozy apartment-style accommodation try VRBO (better and safer than Airbnb).
► What are the best day tours in Greece?
Taking a day tour in Greece is a great way to experience the top attractions and learn from a knowledgeable guide.
I highly recommend these Greece tours:
► What is the best ferry website in Greece?
Hands down, Ferry Hopper is the best ferry website in Greece for booking your Greek island connections. This is how I booked all my Cycladic island ferries and can recommend them.
Ferries on Ferry Hopper can connect you from Athens to any island in the Cyclades including Santorini, Mykonos, Naxos, Paros and Milos (plus more!).
You can choose from the fast ferry boats or the more economical slow ferry vessels and can compare prices on the website before booking.
► Should I rent a car in Greece?
If you are flying in and out of Athens to see the top sights and don't plan to leave the city, I don't recommend renting a car. You can easily get around Athens by walking, taking public transportation, like the underground metro or ride-share services like Uber.
If you are heading to the Greek islands, this is where I would highly, highly (did I say highly?), rent a car in Greece. Islands like Milos, Paros and Naxos are best explored by car hire as the roads are more desolate and attractions are further apart.
I always use and recommend Discover Cars for this. Make sure to book early especially if you plan to visit Greece in the summer! Believe me, they sell out fast.
If you are going to plunk down on a beach for a week in the Greek Cyclades, I wouldn't bother with a car rental. You can take a taxi or local transportation on the island to the beach destination of your choice (after your ferry trip from Piraeus, of course).
► What is the best site to buy flights to Greece?
For finding cheap flights to and within Greece, I recommend booking through Skyscanner.
► Can you drink tap water in Greece?
Yes! You can drink straight from the tap in Athens, Greece's capital. Here the water supply is of good quality but may taste of chlorine depending on what area you are staying in.
Some Greek islands will have warnings against drinking tap water, so make sure to bring a self-filtering water bottle with you (LARQ is my fave) instead of resorting to pesky single-use plastic water bottles.
More Greece Travel Guides

10 Days in Greece Itinerary
Where to Stay in Milos
Top Milos Boutique Hotels
Top Milos Beaches
Adamas Milos Travel Guide
Plaka Milos Travel Guide
Pollonia Milos Travel Guide
Best Town to Stay in Paros
Designer Boutique Hotels in Paros
Top Areas to Stay in Naxos
My Fave Naxos Boutique Hotels